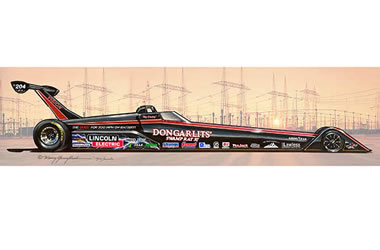 10/28/2013 - News
The Fab Four: SEMA 2013 Show Cars with a Summit Racing Touch
SEMA 2013, the aftermarket industrys annual parts blowout in Las Vegas, is almost upon us, as in next week, November 5-8. In addition to showcasing the latest products for--well, almost anything on four wheels--SEMA also features the latest concept vehicles and shop projects from all over the world. Summit Racing is proud to have helped out with three of those project vehicles, and having our name on the fourth.


Rutledge Wood's 1949 Chevy Step Van
When Top Gear on History co-host Rutledge Wood wanted to build an aluminum breadbox on wheels, he turned to Summit Racing for parts and tech advice. Built by American Resto Rods, the 49 Chevy sits on a much-modified Chevy 2500 HD pickup chassis. Power comes from a Chevrolet Performance 525 HP LS3 crate engine backed by a Performance Automatic Street Smart 4L80E transmission.


Wes Adkins "427 Wildcat" 1968 Cougar
Wed Adkins, owner of Wild Wes Paintworks in Dover, Ohio, has built a Pro Touring Cougar worthy of its name. The '68 was Wes's daily driver for a few years before he decided to redo it as the ultimate Cougar. The car has a 427 cubic inch Ford Windsor with twin superchargers that Wes says will make 800 horsepower without breaking a sweat. You can see more of the Wildcat in this video at On All Clylinders.


Strange Motion 1964 Corvair
We'd love to dish on the Corvair Tim Strange is building for his wife Carrie, but he's keeping the project under wraps until its unveiling at SEMA. We do know the Corvair will have a radical Chevy V6 up front, big hoops, Wilwood four-wheel disc brakes, and a host of the custom body touches.



Don Garlits' Swamp Rat 37 Electric Dragster
When you're "Big Daddy" Don Garlits—arguably the most famous guy in drag racing and a Summit Racing Legend—what do you do to one-up yourself? Build an electric dragster, that's what. Built by Lawless Industries, Swamp Rat 37 is powered by a High Tech Systems battery pack that can generate 1,500 kilowatts of electricity. That's over 2,000 horsepower in internal combustion-speak.


You can see some pix and read the rest of the story at our blog, OnAllCylinders!