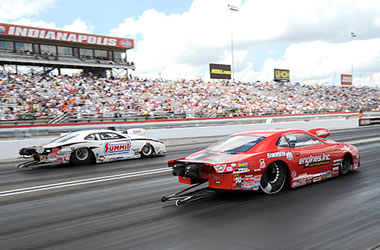 9/5/2013 - News
Summit Racing Equipment Camaros Among the Best in Indy
Six-time U.S. Nationals winner Greg Anderson was enthusiastic about his strong performance during this year's running of the NHRA's most acclaimed event, the Chevrolet Performance NHRA U.S. Nationals, that included driving into the fourth place qualifying spot with a 6.640 second, 208.10 mph run and a semifinals finish on race day.


During the opening round of eliminations, Anderson's 6.624/208.49 blast down the quarter-mile track at Lucas Oil Raceway in Indianapolis handily defeated Greg Stanfield's 6.680/206.04, setting-up a second round meeting with Rickie Jones. Although Jones was stellar at the starting line with a near-perfect .003 second reaction time, Jones couldn't maintain the advantage as Anderson clocked a stout 6.673/208.14 mph to best Jones, who slowed to an 8.027/125.03.


Despite a lack of lane choice in the semifinals against Mike Edwards, Anderson was confident his Summit Racing Camaro would take the win. The two drivers clocked identical 6.640 elapsed times and Anderson bested Edwards on speed (208.36 to 207.46), but the win light flashed in Edwards' lane thanks to his quicker .012 second reaction time.


"The good news is we've got cars that can win races," said Anderson. "We were close to being in a position to win the U.S. Nationals today, and we're back in the game. We've got a week off to get even better for Charlotte. We want to win that first race of the Countdown. The Summit Racing team will be testing at zMAX Dragway this week, and we'll be looking for gains so we can come to the next race and run low ET in each round. That's what we're looking for."


The Chevrolet Performance U.S. Nationals marked the last event of the regular racing season. Anderson is seventh in the points standings entering the Countdown to the Championship playoffs.


Line Has Work to Do as Countdown Approaches
Jason Line qualified seventh on the ladder with a 6.645/207.98 pass during the final qualifying session—and the only driver to improve. The improvement was critical as he and teammate Greg Anderson were now on opposite sides of the ladder, assuring the duo would not meet before the final round.


Line raced to a 6.624/208.68 to best Curt Steinbach's 6.647/206.86 in Round One of eliminations. Unfortunately, Line's march was cut short by V. Gaines in the second round, 6.625/208.65 to 6.644/207.50.


"The truth is, I still have a lot of work to do to have success in the Countdown," said Line. "Team Summit has made a lot of good decisions lately, and we plan to continue doing that and picking up as much power as we can. The pressure is on now, and we sure can't waste any time."


Line is sixth in the points standings entering the Countdown to the Championship.


Team Summit Results: Pro Stock
Rickie Jones qualified fifth (6.644/207.85). He defeated Larry Morgan in Round One of eliminations, but came up short against Greg Anderson in Round Two. Jones is currently 12th in the points standings.
Larry Morgan qualified 12th (6.676/206.76). He lost to Rickie Jones in Round One. Morgan is currently 11th in the points standings.
Warren Johnson qualified 15th (6.696/206.70). He lost to V. Gaines in Round One. Johnson is currently 22nd in the points standings.
Kurt Johnson did not qualify for the event. Johnson is currently 18th in the points standings.


Team Summit Results: Funny Car
Tim Wilkerson qualified 13th (4.086/312.50). He defeated Bob Tasca III and Ron Capps in the first two rounds before losing to Jack Beckman in the semi-finals. Wilkerson is currently eighth in the points standings.


Team Summit Results: Pro Mod
Kenny Lang qualified seventh (6.039/240.17). He defeated Pete Farber in Round One before losing to Mike Janis in Round Two. Lang is currently fourth in the points standings.


Event Winners
Top Fuel: Shawn Langdon defeated Steve Torrence, 3.818/320.97 to 3.907/309.63.
Funny Car: Robert Hight defeated Jack Beckman, 4.111/312.64 to 6.072/111.46.
Pro Stock: Mike Edwards defeated V. Gaines, 6.637/208.39 to 6.620/208.78.
Pro Stock Motorcycle: John Hall defeated Matt Smith, 7.034/188.38 to 7.065/189.66.
Pro Mod: Mike Janis defeated Rickie Smith, 5.952/241.41 to 5.955/241.37.


Next Race
The first race in the Countdown to the Championship is the Carlyle Tools NHRA Carolina Nationals, September 13-15 at zMAX Dragway near Charlotte, North Carolina. For more news and in-depth results from the Chevrolet Performance NHRA U.S. Nationals, go to http://www.DragRaceCentral.com.