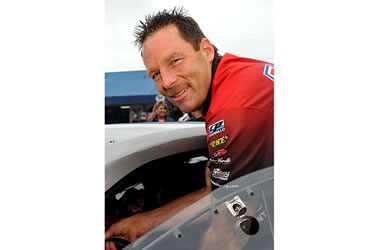 5/14/2013 - News
Semifinal Finish for Anderson in Atlanta
The Summit Racing Pro Stock duo of Greg Anderson and Jason Line were looking forward to a third-consecutive all-Summit final round the 33rd annual Summit Racing Equipment NHRA Southern Nationals. Although the team that owns a combined six Pro Stock championships stopped short of accomplishing its main goal, both drivers were enthusiastic about their performances.


The race in Atlanta was delayed a week due to persistent rain. Once the event was called off, the Summit Racing team ventured home to North Carolina and got right to work prepping for the rescheduled event.


"We used those days to work on our race cars, and I definitely think that made us a little bit better," said Anderson. "We certainly made progress so that we all feel a whole lot better about our Summit Racing Chevy Camaros. We didn't win the race, but I really felt like we had a legitimate chance to win. We ran well, and we didn't have to count on crazy strokes of luck."


Anderson entered final eliminations as the Number 4 qualifier (6.600 seconds at 209.79 miles per hour), his best starting position since the Arizona Nationals in Phoenix. Anderson knocked out Chris McGaha in Round One, 6.623/209.33 to 11.578/75.57. In Round Two against Greg Stanfield, Anderson dug deep and launched off the starting line first with a.018-second reaction time against notoriously quick leaver Greg Stanfield. Anderson never looked back as he took the win, 6.630/208.97 to 6.677/207.62.


Anderson came up against Number One qualifier Mike Edwards in the semifinals. Anderson's respectable .036 second reaction time, paired with a strong 6.609/209.82 run, was just .009-second short of taking the win light. Edwards advanced to the final round with a 6.607/209.65.


"It's certainly not okay to fail anywhere, but there is some extra pressure at a Summit Racing-sponsored race because you want to make the your sponsor proud," said Anderson. "The Summit Racing team is not leaving Atlanta satisfied, but we feel a whole lot better about our program. We'll roll into Heartland Park next week with a positive feeling that we can contend for the race wins. We're seeing the light at the end of the tunnel now, and we're very happy about that."


Anderson moves up to eighth place in the Pro Stock points standings.


Line Misses in Very Close Race
Summit Racing Pro Stock driver Jason Line came into eliminations as the Number 7 qualifier (6.609/209.69) and met up with Vincent Nobile in Round One of eliminations. The two-time NHRA Pro Stock world champ cut a speedy .019-second reaction time and ran a 6.615/209.62 (the second-quickest pass of the round to defeat Nobile.


In Round Two, Line's powerful Summit Racing Chevy Camaro was again second quickest of the round and quicker to the finish line stripe than opponent Jeg Coughlin. But Coughlin's excellent .013 second reaction gave him the win by a mere .007-second, 6.624/208.75 to Line's 6.619/209.39.


"I'd take that light nine out of 10 times," said Line. "If I could have a light like that every time I went to the starting line, I"d be in pretty good shape. But today, it wasn"t good enough. You just have to focus on being better the next time."


"To be honest, I'm most excited about the fact that Greg had the best car he's had all year this weekend," Line continued. "We'll go back to work and try hard to find even more performance with our Summit Racing Camaros. We're definitely heading in the right direction."


Line is currently fifth in the Pro Stock points standings.


Team Summit Driver Results: Pro Stock
• Larry Morgan qualified 15th (6.641/208.97) but lost to Jeg Coughlin in Round One of eliminations. He is tied with Rickie Jones for 14th place in the points standings
• Warren Johnson qualified 16th (6.656/208.17) and lost to Mike Edwards in Round One. He is currently 18th in the points standings.
• Kurt Johnson qualified 14th (6.640/207.56). He defeated Rickie Jones in Round One but lost to Shane Gray in Round Two. Johnson is currently 13th in the points standings
• Rickie Jones qualified 3rd (6.596/210.11) but lost to Kurt Johnson in Round One. He is tied with Larry Morgan for 14th place in the points standings
FINAL ROUND RESULTS: Mike Edwards defeated Shane Gray, 6.595/209.14 to 6.643/208.17.


Team Summit Driver Results: Funny Car
Tim Wilkerson qualified fourth (4.089/307.58). He defeated Alexis DeJoria in Round One and Jack Beckman in Round Two, but was defeated by Matt Hagan in the semifinal round. Wilkerson is currently fifth in the point standings.
FINAL ROUND RESULTS: Johnny Gray defeated Matt Hagan, 4.077/314.17 to 4.160/309.49.


Top Fuel Final Round Results
Antron Brown defeated Brandon Bernstein, 3.801/321.35 to 7.105/90.64.


Next Race
The next event is the NHRA Kansas Nationals, May 17-19 in Topeka, Kansas. For more news and in-depth results from the Summit Racing Equipment Southern Nationals, go to www.DragRaceCentral.com.