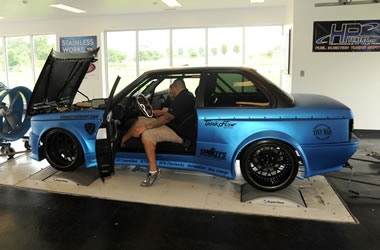 9/25/2013 - Media
See an LS-Powered BMW E30 Roast the Rollers on the Chassis Dyno!
What happens when Summit Racing and Trick Flow Specialties gets involved with a local tuning shop? An E30 BMW with an LS3 engine that puts down almost 600 horsepower to the rear wheels. Ohhhhhhhhh yeah.


"The E30 is a very popular chassis for an LS swap," said Jamy Lippencott, vice president of Smokey's Dyno & Performance. "Road course guys are taking stock LS motors and putting them right into an E30 because of how easy it is. Those cars are making well over 300 horsepower at the wheels just with stock swaps. The BMW guys are pretty much all over it."


The 408 cubic inch engine is based on a Chevrolet Performance LS3 block and outfitted with Trick Flow GenX 245 cylinder heads and a Track Max Stage 4 camshaft. Summit Racing supplied the block, a FAST intake manifold, and a Canton Road Race oil pan. We also supplied a complete Aeromotive fuel system. The LS3 is backed by a T-56 six-speed.


Smokey's Dyno did a lot of fabrication including motor mounts, transmission mount and crossmember, subframe connectors, and a custom cold air intake feeding a FAST 102mm throttle body. Stainless Works made the custom stainless steel headers. And those wheels? They're one-off 18 inchers.

Enough with the words--you want to see and hear a LS3 BMW shred some rubber on the dyno. No problem--just visit Summit Racing's blog, OnAllCylinders, to see the video and find out how much power this LS3 is throwin' down.

Earplugs are advised.