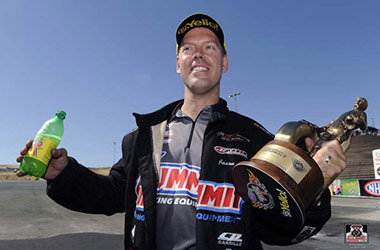 8/1/2014 - News
Line Puts Team Progress at Forefront in Seattle
With a position in the Countdown to the Championship secured, two event wins on the scorecard and a recent Number One qualifier at the Mopar NHRA Mile-High Nationals, you would think Summit Racing Pro Stock driver Line would be feeling a little less heat going into the NHRA Northwest Nationals this weekend.


"The pressure certainly isn't off going to these next three races before the Countdown starts," said Line. "Right now we have to get Greg in there and running better. We haven't made it a secret that our cars haven't been where we felt they should be, but we're getting there now. The last two weeks, I've felt like I've had the best car out there, and we just need to get Greg and our KB Racing teammate Vincent Nobile running better. We're on the right track, and we just need to keep that going."


Indeed, Line's blue Summit Racing Chevrolet Camaro is a very fast hot rod. His victory at Sonoma Raceway put an exclamation point on the fact he claimed his berth in the Countdown to the Championship playoffs in the second round of eliminations.


Line got his first win at Seattle's Pacific Raceways in 2008, and the victory closed the door on a frustrating dry spell at the facility. He followed up with a victory in 2011 against KB Racing teammate Greg Anderson.


"For a long time, Seattle wasn't a friend to me, but we're good now," Line explained. "I like going there; it's a nice place and beautiful country. And I have a really good race car right now, so that certainly doesn't hurt."


Jason Line By the Numbers, Northwest Nationals Edition
2: Northwest Nationals victories (2008 and 2011).
4: Final round appearances.
15: Elimination round wins in nine starts.


Event Schedule (All Times Pacific)
Friday, August 1: Two qualifying sessions at 2:30 and 5:30 pm
Saturday, August 2: Two qualifying sessions at 12:30 and 3:30 pm
Sunday, August 3: Final eliminations starting at 11:00 am


Television Coverage on ESPN2 (All Times Eastern)
Saturday, August 2: Qualifying from 10 pm-12 am
Sunday, August 3: Final eliminations from 7-10 pm