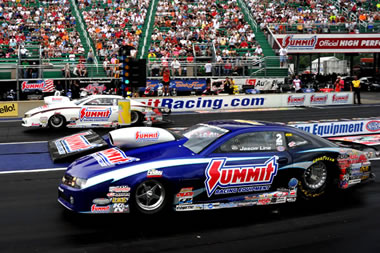 7/9/2013 - News
Line Protects Position in Pro Stock Top 10 in Norwalk
Jason Line maintained his fourth place ranking in the NHRA Pro Stock points standings with a second round finish at the Summit Racing Equipment NHRA Nationals in Norwalk, Ohio.


Line qualified ninth with a 6.645 second/208.53 mph pass, which set up a first round meeting with Summit Racing teammate Greg Anderson. This marked the fifth time in KB Racing history the two have met in the first round of eliminations.


Anderson launched .027-second too soon, illuminating the red light. Line cut a remarkable .002-second reaction time and lit the win light with a 6.661/208.39 pass.


"The advantage running against your teammate in the first round is that you can take advantage of that and use it as a test run," said Line. "That's just what we did. We tried to learn something so that we could hopefully have an advantage over the guy in the other lane in the second round."


Unfortunately, things didn't work out that way in the second round matchup with Allen Johnson. Line cut a stellar .020-second reaction time and ran a 6.668/208.26, but it wasn't enough to overcome Johnson's 6.620/209.17 run.


"We changed quite a few things in the first round in preparation for the second, but we weren't successful in determining what we could do to move ahead," said Line. "The good news is both of our Summit Racing Camaros made it down the race track. That gives us something to work with."


Line will be testing hard for the next race on the tour, the Mile-High NHRA Nationals in Denver in two weeks.


"We're going straight to Denver and test our cars up there on that mountain," said Line. "We have some work to do, and Team Summit is more than willing to do whatever it takes."


Anderson Exits Early
Greg Anderson was eager to make his way to the final round in Norwalk, but he was perhaps a little too eager as he hit the throttle .027 of a second early and fouled out in Round One of eliminations against Summit Racing teammate Jason Line. It was just the 18th red light in Anderson's career 804 rounds of competition.


"It was a big disappointment," said Anderson. "But I'm not throwing in the towel by any means. We'll go to Denver, test, and have a better outcome."


"There is a certain level of frustration because even though we're making gains, they're just not happening fast enough for our comfort," Anderson continued. "But this is where we have to take a deep breath, calm down, and keep working at it. The Summit Racing team has very high expectations for ourselves and we know just what we're capable of."


Anderson is currently eighth in the Pro Stock points standings.


Team Summit Results: Pro Stock
Larry Morgan qualified 12th (6.658/208.07) but lost to Shane Gray in Round One of eliminations. He is currently 12th in the points standings.
Rickie Jones qualified seventh (6.632/209.20). He defeated Roger Brogdon in Round One, but lost to Mike Edwards in Round Two. Jones is currently 13th in the points standings.


Team Summit Results: Funny Car
Tim Wilkerson qualified seventh (4.082/309.98) but lost to Courtney Force in Round One. Wilkerson is currently eighth in the points standings.


Team Summit Results: Pro Modified
Kenny Lang qualified sixth (5.976/243.94) but lost to Tim Tindle in Round One. He is currently third in the points standings.


Team Summit Results: Top Dragster
Marco Abruzzi qualified 18th. He defeated Peter Biondo in Round Two and Bob Mandell III in Round Three, but lost to Vince Musolino in the semi-finals.


Team Summit Results: Top Sportsman
Marco Abruzzi qualified 17th. He defeated Allen Firestone in Round 3 and Jeff Mandell in the semi-finals, but lost to Jeff Pittman in the final round.


Final Round Results
Top Fuel: Khalid alBalooshi defeated Doug Kalitta, 3.935/271.30 to 4.215/268.54.
Funny Car: Johnny Gray defeated Ron Capps, 4.103/314.02 to 4.103/314.09.
Pro Stock: Mike Edwards defeated Allen Johnson, 6.616/209.56 to 15.969/52.46.
Pro Stock Motorcycle: Matt Smith defeated Scotty Pollacheck, 6.954/192.44 to 7.008/191.16.
Pro Modified: Rickie Smith defeated Mike Castellana, 6.103/240.77 to 6.159/238.60.


Next Race
The next event is the Mopar Mile High NHRA Nationals, July 19-21 in Denver, Colorado. For more news and in-depth results from the Summit Racing Equipment NHRA Nationals, go to http://www.DragRaceCentral.com.