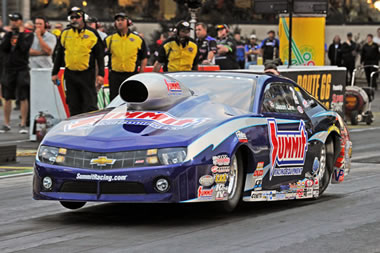 7/18/2013 - News
Line Prepared to Tackle Denver's Mile-High Conditions
Jason Line logged nearly two dozen passes down the quarter-mile in his Summit Racing Chevrolet Camaro as he prepared for this weekend's Mopar Mile-High NHRA Nationals at Bandimere Speedway in Denver, Colorado.


As the first event in the strenuous three-race Western Swing, the Mile-High NHRA Nationals presents a challenger to racers and tuners. That's because Bandimere Speedway sits high above sea level; teams have to adjust to the thin air at high altitudes that robs a Pro Stock car's naturally aspirated engine of horsepower as well as atmospheric conditions seen nowhere else on the Mello Yello tour.


"It's definitely a different place to race, and I'd be lying if we said we felt like we really had a handle on it," admitted Line. "But the Summit Racing team definitely has a head start after testing at Bandimere. It's a unique stop on our tour, and one that we look forward to every year despite the challenges."


Line, currently fourth in the Mello Yello Drag Racing Series Pro Stock points standings, is going after his second win of the 2013 season and his first Pro Stock national event victory at Bandimere Speedway. Line did score a victory in Denver as a sportsman racer competing at a points meet in 1993.


"We certainly don't want to say that we'll go to Denver and dominate—it's just not that easy up there," said Line. "But the KB Racing team has been working very hard to find what it will take to do well. No matter what it looks like on paper, good or bad, you go, do your best, and hope for the outcome that you've been working towards."


Jason Line By the Numbers, Mopar Mile-High NHRA Nationals Edition
1—Number One qualifying performances (2006)
2—Final round appearances, most recently in 2009
6—Tracks on the NHRA circuit where Jason has yet to win, including Bandimere Speedway
7—Times Line has qualified in the top half of the field in nine previous starts
12—Elimination round wins in nine prior starts


Event Schedule (All Times Mountain)
Friday, July 19: Two qualifying sessions at 5:15 and 7:15 pm
Saturday, July 20: Two qualifying sessions at 1:45 and 4:45 pm
Sunday, July 21: Final eliminations starting at 11:00 am


Television Coverage on ESPN2 (All Times Eastern)
Qualifying: Saturday, July 20 from 10:00 pm to 12:00 am
Eliminations: Sunday, July 21 from 6:00 to 9:00 pm