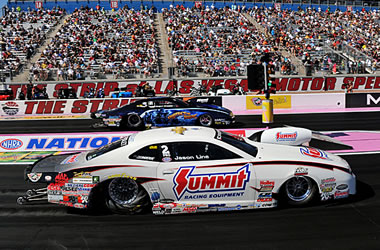 10/29/2013 - News
Line Moves Into Second Place with One Race to Go
Jason Line kept his 2013 championship hopes alive and moved into second place in the Countdown to the Championship points standings despite an early finish at the NHRA Toyota Nationals in Las Vegas. With one race to go for the season, Line is just 71 points away from the top spot.


Line stepped into teammate Greg Anderson's white Summit Racing Camaro after crashing during testing a little more than a week before the Las Vegas race. Without much experience behind the wheel of the white car, Line was hopeful yet uncertain as to how the weekend would play out. Four rounds of qualifying showed Line and the Summit Racing crew that they had plenty to work with. He qualified fifth with a 6.650 second, 207.69 mile per hour pass, earning four valuable bonus points in the process.


Line bested Rodger Brogdon in Round One of eliminations, clocking a 6.666/207.72 run to his opponent's 6.708/206.54. Line's day came to an untimely end in Round Two against Shane Gray. Line had a quicker and faster pass (6.669/207.43 to Gray's 6.691/207.24), but Gray's .032 second reaction time advantage at the starting line gave him enough edge to take the win.


"We definitely started off on a good note with the white car," said Line. "These Summit Racing Chevrolet Camaros are good cars, and I was glad that we ran as well as we did. I felt like we could have had a top car here. Today was disappointing, especially with the championship on the line, but we aren't out of it yet. Team Summit has weathered storms before, and right now we're in the middle of one. Hopefully, the sun will shine on us in Pomona in two weeks."


Anderson Improves in Red Camaro
Greg Anderson made a marked improvement as he settled back in behind the wheel of the red Summit Racing Chevrolet Camaro at The Strip at Las Vegas Motor Speedway. After qualifying eleventh at the past two races, Anderson bounced back into the top half of the field, qualifying eighth with a 6.653/208.17.


Anderson cut an excellent .017 second reaction time in his Round One matchup with Vincent Nobile. However, the strong start wasn't enough as Nobile took the win with a 6.661/207.40 to Anderson's 6.68/207.50.


"Today wasn't so great for us," said Anderson. "The good news is that I'm feeling very comfortable going in the red car. We made a few good runs out there this weekend, and the car just fit like a glove. I'd like Jason to win the championship, and I've still got it on my agenda to win a race this year. We have a to-do list as we head out to Pomona in two weeks, and it would be great to check off a thing or two before the season is over."


Anderson is currently eighth in the Countdown to the Championship points standings.


Team Summit Results: Pro Stock
Larry Morgan qualified 15th (6.714/205.82). He lost to V. Gaines in Round One of eliminations.
Warren Johnson did not qualify for the event (6.728/206.13).
Kurt Johnson qualified 16th (6.723/205.94). He defeated Mike Edwards in Round One and Vincent Nobile in Round Two, but lost to Shane Gray in the semi-finals.
Rickie Jones qualified 10th (6.658/207.05). He lost to Allen Johnson in Round One.



Team Summit Results: Funny Car
Tim Wilkerson qualified 13th (4.123/307.02). He lost to Ron Capps in Round One. Wilkerson is currently 10th in the Countdown to the Championship points standings.


Team Summit Results: Pro Mod
Kenny Lang qualified eighth (6.017/241.45), but lost to Rickie Smith in Round One in the last race of the Pro Mod season. Lang finished the season seventh in the points standings.


Final Round Results
Top Fuel: Antron Brown defeated Clay Millican, 3.782/324.51 to 3.822/322.50.
Funny Car: John Force defeated Courtney Force, 4.062/310.63 to 4.085/319.22. The win gave John his 16th Funny Car championship.
Pro Stock: Shane Gray defeated V. Gaines, 6.699/206.89 to 6.698/207.46.
Pro Stock Motorcycle: Matt Smith defeated Jerry Savoie, 6.991/192.08 to 7.050/190.19. The victory earned Smith his second Pro Stock Motorcycle championship.
Pro Mod: Troy Coughlin defeated Danny Rowe, 5.913/248.34 to 5.975/242.63.


Next Race
The next event is the Automobile Club of Southern California NHRA Finals, November 7-10 in Pomona, California. For more news and in-depth results from the NHRA Toyota Nationals, go to http://www.DragRaceCentral.com.