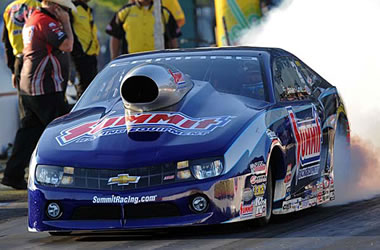 6/20/2013 - News
Line Looks Forward to Competing at New England Dragway
For Summit Racing Pro Stock driver Jason Line, this weekend's inaugural NHRA New England Nationals will be an exciting new challenge.


"We've never had the chance to race at New England Dragway before," said Line. "The Summit Racing team is definitely looking forward to it. It's always fun to go someplace new, and we've heard they're expecting a pretty big crowd to come out and watch the race. It's going to be exciting for all of us."


Line has won 30 national events in the extremely competitive Pro Stock category, and has claimed victory at 16 different race tracks on the Mello Yello tour. Scoring a win at the facility in Epping is high on the to-do list for the motivated driver.


So far this season, Line has one win on his scorecard and has qualified in the top half at each of the 10 events run so far in 2013. In fact, he has been fifth or better during qualifying in his Summit Racing Chevrolet Camaro six times, including just last week at the Thunder Valley Nationals in Bristol, Tennessee, when he drove his way to the semifinals for the second consecutive event.


"Team Summit has worked very hard this year, just like always, to make our Camaros faster, and we are going to keep working," said Line. "New England Dragway is a race track that is close to sea level, and that sets up some pretty good conditions for these Pro Stock cars. Hopefully, our hard work will show there this weekend. We'd sure like to make a good first impression up there with our Summit Racing hot rods."


Jason Line By the Numbers, NHRA New England Nationals
15—Elimination round wins in 10 starts so far this season
16—Different race tracks where Line has won in Pro Stock
222—Career total NHRA Pro Stock events Line has competed in


Event Schedule
Friday, June 21: qualifying at 4:45 pm and 6:45 pm
Saturday, June 22: qualifying at 12:15 pm and 2:15 pm
Sunday, June 23: eliminations beginning at 11 am


Television Coverage on ESPN2 (all times Eastern)
Saturday, June 22: 8-10 pm (qualifying)
Sunday, June 23: 7-10 pm (eliminations)