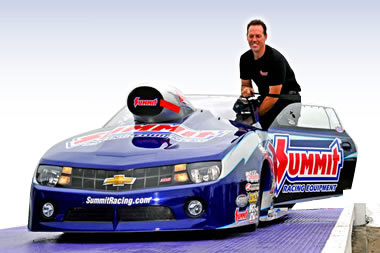 5/16/2013 - News
Line Focused on Long-Awaited Topeka Victory
Summit Racing driver Jason Line is pleased with the progress his KB Racing team has shown during the last few events of the NHRA 2013 Mello Yello Drag Racing Series. That progress includes a win at the Spring Nationals and Top Three qualifying positions and some very quick runs during eliminations for both Line and teammate Greg Anderson at the rain-delayed event in Atlanta this past weekend.


Line is now focused on checking off a high-priority item on his to-do list—a victory at Heartland Park Topeka. Host of this weekend's NHRA Kansas Nationals, the track is one of just six facilities where the two-time Pro Stock champion has yet to score a victory as a pro-class driver. Line did well as a sportsman racer at Heartland Park, winning a division-level event there before graduating to the professional ranks.


"I've always enjoyed going to Topeka," said Line, "I raced my Stocker at the first event held there, so I have some pretty good memories. Last year the KB Racing team did pretty well there, and hopefully we'll be able to do even better this weekend with our Summit Racing Camaros."


Last season, Line clocked a 6.566 second pass in the first round of eliminations, setting both Low ET of the meet and the Heartland Park Topeka track record. The only person who could stop him turned out to be Summit Racing teammate Greg Anderson, who took the win over Line in the semi-finals and was runner-up at the event. This year, Line is optimistic that Team Summit will have a chance to again ruffle feathers in Kansas.


"The whole team has been working really hard," said Line, currently No. 5 in the Pro Stock points standings. "We should be competitive when we get to Topeka. You always hope that one of these years you'll manage to win this thing—Greg has won it four times, so I know it's possible—so maybe this will be my year to do it."


2013 has been a challenge for the NHRA as teams have battled shortened qualifying sessions and delays due to bad weather. This has kept teams on the road without much of a break; with less than a week between last weekend's delayed Summit Racing Equipment NHRA Southern Nationals and the upcoming Kansas Nationals, teams are stretched to their limits.


"The situation is both good and bad," said Line. "We miss having the time at the shop to work on things, but the way things have worked out allows you to get into a groove, so to speak. Hopefully, that will work to our advantage because my expectations are to win this race. These Summit Racing Chevy Camaros are capable of winning, and that is always the expectation."


Jason Line By the Numbers, NHRA Kansas Nationals
3—Semi-final or better finishes in his nine prior starts
7—Top half starts in his nine prior events
17— Number of tracks where Jason has won in his Pro Stock career


Event Schedule (All Times Central)
Friday, May 17: Two qualifying sessions at 5:00 and 7:00 pm
Saturday, May 18: Two qualifying sessions at 12:30 and 2:30 pm
Sunday, May 19: Final eliminations starting with Top Fuel at 11:00 am


Television Coverage on ESPN2 (All Times Eastern)
Qualifying: Saturday, May 18, 5:30-7:30 pm
Eliminations: Sunday, May 19, 8:00—11:00 pm