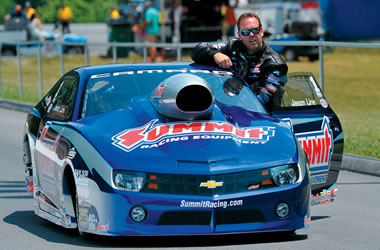 3/15/2013 - News
Line Encouraged by Past Performance in Gainesville
Summit Racing Pro Stock driver Jason Line is very much a fan of competing at Auto-Plus Raceway at Gainesville, FL, the site of this weekend's 44th annual Amalie Oil NHRA Gatornationals. The winner of 29 national events counts Gainesville as one of his most successful tracks, having collected four wins in five final rounds at the Florida facility. If history is any indication Line is in a strong position to win race number 30 here.


"As a driver, you certainly feel more confident going to a race track where you've done well before," said Line. "You always want to believe that success breeds success, and we have had our share of success there before and would sure like to keep it going."


Line won his first Gatornationals title in 2005 in only his second season behind the wheel of a Summit Racing hot rod. Line made a final round appearance in 2008 but fell short of winning. He came back to Gainesville with a vengeance, winning the event in 2009, 2010, and 2011.


Since the Arizona Nationals in Phoenix two weeks ago, Line and the Summit Racing team have been hard at work in the KB Racing engine and car shops as well as testing at the track.


"We are working on making better quality runs," said Line. "That's where it starts. We haven't quite been ourselves for the last few races, and we know this Summit Racing team is better than what we've shown. That makes the return to Gainesville even more exciting for us because we like that track, and it seems to like us back."


"On a personal note, my family always comes to this race because it's not too far from home, and I'm really looking forward to having them there," Line continued. "I seem to do better when they're with me, wherever we're racing. Hopefully, they'll be celebrating with us in the winner's circle on Sunday."


Jason Line By the Numbers, 44th Annual Amalie Oil NHRA Gatornationals
4: Wins scored by Line in Gainesville heading into this weekend (2005, 2009, 2010, 2011)
5: Final round appearances by Line in his previous nine Gainesville starts
6: Overall wins for KB Racing in Gainesville in the last nine years (Anderson 2, Line 4)
8: Final round appearances by KB Racing in the previous nine years
9: Top half starts by Jason in his previous nine Gatornationals starts, with a best starting position of No. 2 in 2006 and 2012


Gatornationals Event Schedule
• Friday, March 15: Two qualifying sessions at 12 noon & 2:15 pm
• Saturday, March 16: Two qualifying sessions at 12 noon & 2:15 pm
• Sunday, March 17: Final eliminations starting at 11:00 am


Gatornationals Television Coverage on ESPN2 (all times Eastern)
• Qualifying: Sunday, March 17, 1:30-3:00 am (re-air 8:00-9:00 am)
• Final Eliminations: Sunday, March 17, 7:00-10:00 pm