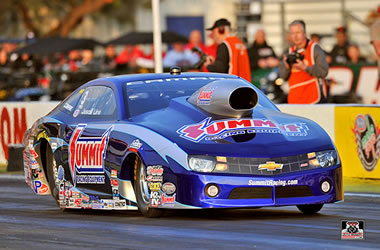 2/20/2014 - News
Line Bringing the Heat to Phoenix 
Two weeks ago, Summit Racing NHRA Pro Stock driver Jason Line won the season-opening Winternationals in Pomona, California. He plans to follow up with another victory at this weekend's CARQUEST Auto Parts NHRA Nationals at the newly rejuvenated Wild Horse Pass Motorsports Park near Phoenix, Arizona. Line won in Phoenix in 2012 and was Number One qualifier in 2007.


"It's a great feeling to head to Phoenix because we're the guys who won the last race," said Line. "It makes everyone on this team feel pretty darn good. Now our job is to build on that and bring another win home for Summit Racing and our team owner Ken Black."


The win in Pomona was particularly gratifying for Line. He was able to bring home the trophy for teammate Greg Anderson, who was in the hospital recovering from successful heart surgery. Anderson has since returned home, and is scheduled to return to racing at the Summit Racing NHRA Springnationals this May.


"It was very different to be at Pomona without my teammate," admitted Line. "I will say that I wasn't 100% confident that we could win, but we did it. I think that shows what a great team we have. We know our Summit Racing Camaros are capable of winning."


With so many races left to run, the two-time NHRA Pro Stock world champion isn't willing to lay out his vision for the season just yet.


"I'm realistic," said Line. "You know what your team is capable of, and you hope for to be able to win. The field was very tight in Pomona, and that makes for great racing so I'm excited about this year. The crowd was really enthusiastic, too. When the crowd is into it that makes it even more fun for all of us. It's going to be a good year."


Jason Line By the Numbers, CARQUEST Auto Parts NHRA Nationals Edition
1: Number One qualifying performances by Jason Line in Phoenix (2007).
1: Wins in three final round appearances in Phoenix (2012).
5: Number of semifinal or better finishes in ten previous starts in Phoenix.
16: Elimination round wins scored by Line in ten previous starts.


Event Schedule
Friday, February 21: Two qualifying sessions at 1:30 and 4 pm
Saturday, February 22: Two qualifying sessions at 1:30 and 4 pm
Sunday, February 23: Final eliminations starting at 11:00 am


Television Coverage on ESPN2 (All Times Eastern)
Qualifying: Sunday, February 23, 2:00–3:30 am and 8:00-9:00 am
Eliminations: Sunday, February 23, 8:00-11:00 pm