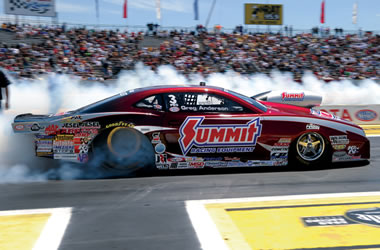 2/15/2013 - News
Line and Anderson Ready for the 2013 Race Season
After spending the off-season in search of race-winning horsepower, Team Summit NHRA Pro Stock drivers Jason Line and Greg Anderson are squaring off against their rivals at the season-opening 53rd annual O'Reilly Auto Parts NHRA Winternationals in Pomona, CA.


The event began on Valentine's Day with a single qualifying session. Jason Line made a 6.541 second/212.40 MPH pass, good for second place in the Pro Stock qualifying order. Greg Anderson's 6.580/210.60 run put him sixth on the qualifying ladder.


For Jason Line, a win at the Winternationals would be a terrific start to the 2013 season. At the 2012 event, Line and his team charged out of the gate and to the top of the Pro Stock pack to start raceday as the Number One qualifier. Line's progress was halted in the semifinals by teammate Greg Anderson, who went on to score the Summit Racing team's first of six event titles for the season.


"You want to see the fruits of your labor," said Line. "Everything begins at the Winternationals, and you look forward to getting to Pomona and finding out if what you did over the winter is really going to measure up or, hopefully, surpass everyone else. I know we spent a lot of time in the shop, but I can tell you that a lot of those other guys did, too. The first qualifying session should be a pretty good indicator for all of us."


"Our chances of winning are as good as anybody's, but I know we're going to be competitive," Line confirmed. "We have worked very hard, and I believe that both of our Summit Racing Camaro hot rods will be fast. Time will tell, but it's fair to say that we're very optimistic."


Line's teammate Greg Anderson wants a repeat performance of his 2012 opening round performance. Over the course of a career that has included four NHRA Pro Stock world championships, Anderson has accumulated 12 overall victories at Auto Club Raceway. Anderson has earned the crown at the season-opener on five occasions and claimed five starts from the coveted Number One position at the event. The only Pro Stock driver with more Winternationals victories is legendary factory hot rod competitor Bob Glidden; Anderson is tied with another legend of the class, Warren Johnson, for second.


"Pomona is just special," explained Anderson. "I love that racetrack because it definitely seems to fit our set-up. It's been a long winter, and we're hoping to start out with some real magic and get our Summit Racing Chevy Camaros and the KB Racing name back to the head of the class. Pomona is the perfect place to do it."


"This is a very exciting time of year," Anderson continued. "I will admit that every year we all go to Pomona feeling a little fear because you really don't know yet how things will stack up. This team is fully aware of what we've accomplished, but the big unknown is what the rest of the class has done in the off-season. This team has put their heart into making sure our Summit Racing Camaros are ready to go, and I can't wait to get back in the seat in Pomona."


Jason Line By the Numbers
2 - Wins scored by Line at the Winternationals heading into this weekend
4 - Finishes of the semifinals or better in Line's 8 previous starts at the NHRA season-opener
4.63 – Average starting position for Jason in 20 career Pomona starts, with only two starts outside the top half of the field
12 – Elimination round wins scored by Line in his previous 8 Winternationals starts versus 6 losses for a 66.7 round win percentage
Greg Anderson By the Numbers
5 - Wins scored by Anderson at the Winternationals heading into this weekend in six final round appearances, including 3 in a row from 2006 – 2008 and a victory scored there last season.
8 - No. 1 qualifying performances by Anderson in Pomona in 22 career starts, with only three starts outside the top half of the field (none since 2003)
9 - Finishes of the semifinals or better in Anderson's 13 previous starts at the NHRA season-opener
10 - Overall wins by Greg at The Auto Club Raceway at Pomona in 23 career starts, which breaks the tie with Warren Johnson for the second most by a Pro Stock competitor (Bob Glidden has 12)
15 – Finishes of the semifinals or better by Anderson in his previous 22 Pomona starts
31 – Elimination round wins scored by Greg in his previous 12 Winternationals starts versus 8 losses for a 77.1 round win percentage.
You can keep up with Jason, Greg, and the rest of Team Summit as they battle for a Winternationals victory at Drag Race Central. ESPN2 will be covering the event as well:
Qualifying Coverage: Saturday, February 16 – 10:00 p.m. - 12:00 a.m. EST
Live Eliminations Coverage: Sunday, February 17 – 8:00 - 11:00 p.m. EST