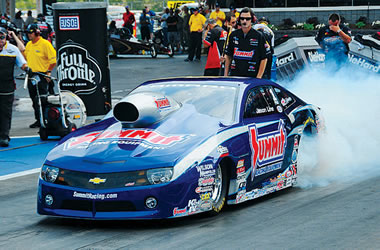 2/21/2013 - News
Line and Anderson Ready for Arizona
Summit Racing Pro Stock drivers Jason Line and Greg Anderson are ready to take on their competitors and the fickle track surface of Firebird Raceway during this weekend's NHRA Arizona Nationals in Chandler, Arizona.


As the defending event champion at the NHRA Arizona Nationals at Firebird International Raceway this weekend, Jason Line hopes to edge out the competition and earn his first victory of the 2013 season. In 2012, Line and Summit Racing teammate Anderson dominated in the desert, each knocking out respective opponents to meet in an all-Team Summit final. If Line turns on four win lights during eliminations this weekend, he will earn the 30th Pro Stock title of his career.


"I would love to have both Summit Racing cars in the final round again," said Line. "I'm sure my teammate would like to get his hands on the trophy this time, but I will do my best to defend the title. Every team has a race track or two they just can't seem to get a handle on. Before last season, Arizona was that track for us. Hopefully we've got it figured out. Our goal is to get in the groove and get some sort of rhythm going for the remainder of the season."


Gred Anderson hopes to better his record in the Valley of the Sun at the second of 24 events on NHRA's 2013 Mello Yello Drag Racing Series tour. He enjoyed success in Arizona early in his Pro Stock career. He won in 2003, qualified Number One in 2004 and 2006, and made it to the final round in 2006. Anderson experienced a frustrating dry spell at Firebird until 2012, when he met Summit Racing teammate Jason Line in the final of the Arizona Nationals.


"There really isn't much that we love more than an all-Summit Racing final," said Anderson. "We want that every time, and to have that in Arizona last year was something special. This KB Racing team has typically struggled there, but we seemed to have figured something out last season, and hopefully that will help us out this year."


Jason Line By the Numbers: NHRA Arizona Nationals
1--Number One qualifying performances by Jason Line in nine starts at Firebird Raceway (2007)

1--Win in three final round appearances (2012)

4--Semifinals or better finishes in nine starts
14--Elimination round wins in nine starts


Greg Anderson By the Numbers: NHRA Arizona Nationals
1--Win by Anderson at Firebird Raceway in three final round appearances (2003)

2--Number 1 qualifiers in 11 starts, most recently in 2006
17--Elimination round wins in 12 starts


NHRA Arizona Nationals Event Schedule
• Friday, February 22: Qualifying sessions at 2:00 pm and 4:00 pm 

• Saturday, February 23: Qualifying sessions at 12:30 pm and 2:30 pm 

• Sunday, February 24: Final eliminations begin at 11:00 am


Television Coverage on ESPN2 (all times Eastern)
• Qualifying: Saturday, February 23 from 1:00-2:30 am 

• Eliminations: Sunday, February 24 from 8:00-11:00 pm