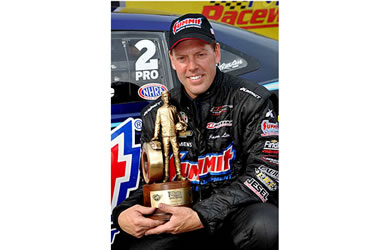 5/2/2013 - News
Line Aiming for Second Win of Season in Atlanta
After scoring his first victory of 2013 last weekend in Houston, Summit Racing Pro Stock driver Jason Line plans to continue the momentum as the NHRA Mello Yello tour heads to Atlanta Dragway for the 33rd annual Summit Racing Equipment NHRA Southern Nationals. For Line and the Summit Racing team, the timing is perfect as the event is held at one of their most favored facilities.


"It felt good to get the first win of the year last week," said Line. "Our guys have been working hard in the KB Racing shop these past couple of days between races. We are continually making progress, and this weekend it would be great to get to celebrate another win—this time with the people from Summit Racing joining us in the winner's circle. They're so good to us, and the best way to thank them is by doing well at their race.


Line and his Summit Racing teammate Greg Anderson have five wins between them in Atlanta, with three of those wins coming in all-Summit Racing final rounds. Anderson won their first toe-to-toe match in 2005. Line scored in 2011, and Anderson got the better of his favorite final round opponent to take home the trophy in 2012.


"I'm not sure what it is exactly about Atlanta Dragway, but we do well there," said Line. "It's pretty cool to have a chance of winning two in a row. Time will tell if we'll be in a position to do it again, but I'm optimistic that the Summit Racing team will be prepared for whatever comes our way."


Jason Line By the Numbers, Summit Racing Equipment NHRA Southern Nationals
1—Win coming into this weekend (2011)
3—Times Line has faced teammate Greg Anderson in the final round, most recently in 2012
4—Final round appearances (2005, 2008, 2011, and 2012)
8—Top Four qualifiers in nine prior races, include Number One in 2012


Event Schedule
Friday, May 3: Two qualifying sessions at 4:30 and 6:30 pm
Saturday, May 4: Two qualifying sessions at 12:30 and 2:30 pm
Sunday, May 5: Final eliminations starting with Top Fuel at 11:00 am


Television Coverage on EPSN2 (all times Eastern)
Qualifying: Saturday, May 4, 6:00-8:00 pm
Eliminations: Sunday, May 5, 8:00-11:00 pm