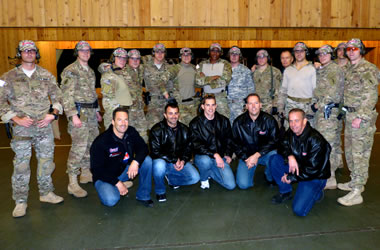 11/29/2012 - News
Keep Up with Summit Racing's "Operation Appreciation" Troop Visit at OnAllCylinders.com!
Operation Appreciation, Summit Racing's annual visit to American military personnel serving overseas, is in full swing—and you can join Team Summit drivers on their trip at OnAllCylinders, Summit Racing's blog!


Team Summit drivers Greg Anderson (NHRA Pro Stock), Jason Line (NHRA Pro Stock), and Dan Runte (Summit Racing/BIGFOOT monster truck), plus NHRA Pro Stock Motorcycle riders Andrew Hines and Eddie Krawiec, are visiting troops in Germany, Bosnia, and Kosovo through December 1. They will be posting blogs on their experiences at OnAllCylinders throughout the week.


"We're excited to be going back to visit the troops in conjunction with Armed Forces Entertainment," said Jim Greenleaf, Motorsports and Events Manager for Summit Racing Equipment. "We're calling this year's tour "Operation Appreciation" to show our appreciation to the brave men and women serve our country."


Having served in the U.S. Air Force, two-time NHRA Pro Stock champion Jason Line is excited about this year's trip.


"After going to Germany for the last few years, it's going to be interesting to go to the different bases," Line said. "It will be a lot of fun to spend some time with the troops and bring them a little taste of home."


"I could go on and on about the benefits of making this trip and what it does for the troops, but it does just as much for us—we can feel we helped out in some crazy way," said four-time Pro Stock champion Greg Anderson. "We can never repay these guys and girls for what they do."


"I was in Junior ROTC throughout high school, and I have a tremendous amount of respect for everything the services have done for us," said three-time Pro Stock Motorcycle champion Andrew Hines. "We're going to give the troops great times to remember and put smiles on some faces."


"I know they (the troops) get a lot of enjoyment from watching our Harley-Davidson Racing team, and in some of their eyes, we're the heroes," said 2012 Pro Stock Motorcycle champion Eddie Krawiec. "But in reality, they are the ones to be looked up to, and this trip will be our chance to tell them that."


Link to Summit Racing Operation Appreciation Blogs: http://www.onallcylinders.com/category/the-buzz/