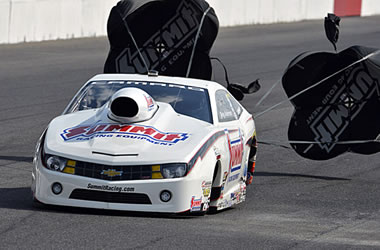 10/1/2013 - News
Greg Anderson Has Semifinal Finish, Line Out Early in St. Louis
Summit Racing Pro Stock driver Greg Anderson established himself as a key player in the Countdown to the Championship with a semifinals finish at the AAA Insurance NHRA Midwest Nationals at Gateway Motorsports Park in St. Louis, Missouri.


Anderson qualified eleventh with 6.566 second, 210.47 mile per hour pass. He easily halted a traction-troubled Vincent Nobile in the first round of eliminations with a 6.537/211.16 run. In Round Two, Anderson got a big jump on rival Jeg Coughlin, Jr. with a .005-second reaction time, winning the round with a 6.571/210.47 to Coughlin's 6.539/201.57.


Anderson nearly pocketed another victory in the semifinal round against Mike Edwards. He cut a .011-second light to Edwards' .035 second RT, but his 6.560/210.73 pass wasn't enough beat Edwards' 6.529/211.93 run.


"It was almost a great day, but unfortunately I came up just a little short," said Anderson. "That win over the yellow car really was great, though. That helped my Summit Racing teammate Jason Line tremendously points-wise."


Line's Round One loss allowed Jeg Coughlin to briefly move up in the points, but Anderson's victory in Round Two prevented Coughlin from leaving St. Louis as the Number One driver.


"The bottom line is that it is very, very tough out here, and we need to keep digging and fighting the good fight to win as a team," said Anderson. "I'm not completely out of the running, and Jason has a very real shot at securing a championship for KB Racing. You just have to continue to strive for perfection, and that is exactly what we will do."


Anderson moves up two notches to seventh place in the Countdown to the Championship points standings.


Line Out Early After Running Great First-Round Race
Fresh off a victory at the AAA Texas NHRA Fall Nationals, Jason Line came to St. Louis with the points lead. He qualified tenth with a 6.555/211.83 run, and drew Mike Edwards for a first round showdown. Line ran a 6.521/211.93—the quickest pass of eliminations—but Edwards' .007 second reaction time ultimately gave him a .004-second margin of victory over the Summit Racing driver, winning with a 6.529/211.93.


"We just lost a heck of a good drag race," said Line. "I was really looking forward to that race, because if we had won, things would really be flipped right now. But we liked what we saw out here today with my Summit Racing Camaro. We really can't wait to get to Maple Grove Raceway next weekend. With just three races left in the Countdown to the Championship, this is a very exciting time, that's for sure."


Team Summit Results: Pro Stock
Larry Morgan qualified 16th (6.631/209.23). He lost to Allen Johnson in Round One of eliminations.
Rickie Jones qualified ninth (6.552/211.49). He defeated Buddy Perkinson and Allen Johnson in the first two rounds of eliminations, but lost to Erica Enders-Stevens in the semi-final round.


Team Summit Results: Funny Car
Tim Wilkerson qualified seventh (4.068/311.13). He defeated Cruz Pedregon in Round One, but lost to Robert Hight in Round Two. Tim is now tied with Del Worsham for ninth place in the points standings.
Daniel Wilkerson qualified 16th (4.398/274.00) in his 2013 Funny Car debut, but lost to Matt Hagan in Round One.


Team Summit Results: Pro Mod
Kenny Lang qualified second (5.908/246.21) but lost to Robert Patrick Jr. in Round One. Lang drops to sixth in the Pro Mod points standings.


NHRA Midwest Nationals Final Round Results
Top Fuel: Antron Brown defeated Khalid alBalooshi, 3.788/323.97 to 3.833/319.98.
Funny Car: John Force defeated Jack Beckman, 4.097/310.13 to 4.127/309.84.
Pro Stock: Erica Enders-Stevens defeated Mike Edwards, 6.540/211.23 to 6.532/212.36.
Pro Stock Motorcycle: Matt Smith defeated LE Tonglet, 6.887/195.52 to 6.950/192.14.
Pro Mod: Mike Castellana defeated Rickie Smith, 6.084/194.72 to 7.060/144.81.


Next Race
The next event is the Auto-Plus NHRA Nationals, October 4-6 in Reading, Pennsylvania. For more news and in-depth results from the AAA Insurance NHRA Midwest Nationals, go to http://www.DragRaceCentral.com.