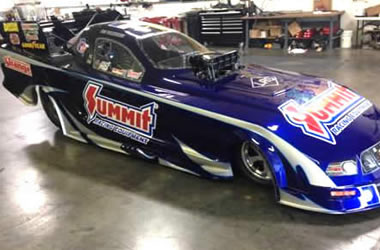 9/25/2013 - News
Dan Wilkerson to Fly Summit Racing Colors in Funny Car Debut
Dan Wilkerson will be flying the Summit Racing colors this weekend at the AAA Insurance NHRA Midwest Nationals. Son of Team Summit Funny Car driver Tim Wilkerson, Dan will be piloting the Summit Racing Equipment Shelby Mustang with additional backing from Strange Engineering, Darton Sleeves, and Bryant Crankshafts. It will be the first national event appearance for "D. Wilk" since the 2012 Summit Racing Equipment NHRA Nationals in Norwalk, Ohio.


The young driver has an impressive eight-for-eight qualifying record, having made the field at every national event he has ever entered as a professional. Dan has proven to be a natural in the car, and he aims to keep his qualifying streak alive before the quest for round wins begins on Sunday.


"It's been way too long since I've been in the car, so you can probably imagine how excited I am to get back to racing," Wilkerson said. "I want to thank the great people at Summit Racing Equipment, because without them we wouldn't have the chance to even be entered in the race. I can't wait to get out there."


"The best thing would be to get in solidly and then help out my dad by taking out a Countdown car or two, to help him move up in the standings," Wilkerson continued. "I don't have any doubt in my mind that I can do that, no matter who lines up next to us. After all, the same guy who is tuning and driving the Levi, Ray & Shoup Ford is tuning my Summit Racing Equipment Ford, so my job is to keep it going straight and get it to the other end. It's great to have such a high-powered crew chief, that's for sure."


Wilkerson's racing career has been on hold for more than a year, but that doesn't mean he hasn't been busy. He has made the transition from single college student to a married man with a full-time job at a Springfield, Illinois-based accounting and tax preparation firm. This weekend's AAA Insurance NHRA Midwest Nationals will mark the first time D. Wilk has pulled to the starting line knowing his wife, Brianna, is behind his car.


"It seems like yesterday I was just a kid hanging around with my dad's team trying not to get in the way" Wilkerson explained. "It's been kind of a fun whirlwind to get my degree, get married, and start a full-time job, but I still think about driving a Funny Car every single day. I was a racer when Brianna met me and she knows how much I love this. She's been very supportive, and it means the world to me to know that she's behind me."


"Right now, we don't have any firm plans to go on the full tour, because we'll need some major sponsorship for that. But when that opportunity comes up I'll be ready. If things work out right, my dad will be tuning and I'll be driving, and some lucky sponsor is going to get a heck of a team as their partner. Until then, I'm pumped up to be driving the Summit Racing Equipment car this weekend. It's a gorgeous car, and it would look great in the winner's circle."