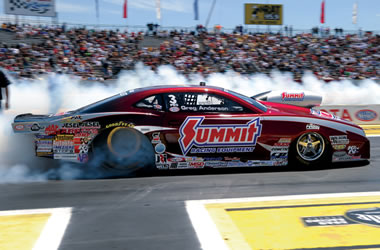 3/15/2013 - News
Anderson to Debut New Summit Racing Camaro in Gainesville
Greg Anderson will unveil his brand new Summit Racing Chevy Camaro at the 44th annual Amalie Oil NHRA Gatornationals at Auto-Plus Raceway in Gainesville, FL.


"We've been out testing with the new car, and we're excited," said Anderson. "This new Summit Racing Chevy Camaro shows promise. What's even more exciting is that we have another new car coming. It won't be done until after the SummitRacing.com NHRA Nationals in Las Vegas next month, but with these two new cars plus the two cars that we already have, we're hoping for big things."


The Gatornationals, the third of 24 races in NHRA's 2013 Mello Yello Drag Racing Series, has been a very productive event for Team Summit in the past. Anderson relishes the opportunity to return to the historic racetrack. He won the event in 2004 and 2007, made the final round in 2011 and 2012, and reset the national elapsed time record twice.


"Our Summit Racing team has had lots of success here. We love the facility; it's a Pro Stock-style racetrack with a very, very good racing surface. It's very smooth, and you always get good air conditions when you come down here. It's exactly what we in Pro Stock love. You can give it everything you've got here, and that formula has been good to us in the past. Hopefully, it continues to be."


Anderson will observe a special occasion the day before he takes his brand new Summit Racing Chevy Camaro down the drag strip for the first time; the four-time NHRA Pro Stock world champion turns 52 years old.


"I don't like to make a big deal out of my birthday," chuckled Anderson. "To be honest, I'd sure like to give myself a belated birthday present with a win on Sunday. I've got an exciting new toy, and I'm really looking forward to this weekend and putting the the new Summit Racing hot rod in the winner's circle."


Greg Anderson By the Numbers, 44th Annual Amalie Oil NHRA Gatornationals
2: Wins scored by Anderson in Gainesville, most recently in 2007
2: NHRA Pro Stock national elapsed time records reset by Anderson at the Gatornationals, most recently in 2007
4: Number One qualifying performances by Anderson in Gainesville in 12 career starts, with only two starts outside the top half of the field (none since 2003)
8: Gatornationals final round appearances for KB Racing in nine years, including Anderson's final-round finishes in 2011 and 2012


Gatornationals Event Schedule
• Friday, March 15: Two qualifying sessions at 12 noon & 2:15 pm
• Saturday, March 16: Two qualifying sessions at 12 noon & 2:15 pm
• Sunday, March 17: Final eliminations starting at 11:00 am


Gatornationals Television Coverage on ESPN2 (all times Eastern)
• Qualifying: Sunday, March 17, 1:30-3:00 am (re-air 8:00-9:00 am)
• Final Eliminations: Sunday, March 17, 7:00-10:00 pm