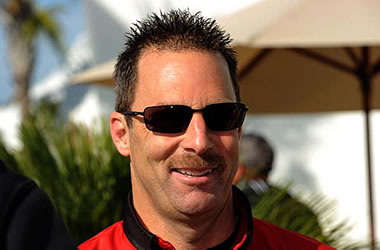 4/18/2013 - News
Anderson Seeking Third Consecutive Four-Wide Title
Four-time NHRA Pro Stock world champion Greg Anderson isn't quite sure why he has had such success at the Dollar General NHRA Four-Wide Nationals. With two consecutive Four-Wide victories to his credit, Anderson has certainly embraced the four-wide format and come out on top. The Mooresville, North Carolina-based driver is geared win his third straight Four-Wide at the prestigious zMAX Dragway.


"Racing four-wide is very difficult for a driver. It's about the toughest challenge we face the whole year and I'm still a bit puzzled as to how I've won the last two," said Anderson. "There are just so many ways for a driver to look like a complete rookie out there, with so much to think about behind the wheel. Usually, when things go your best, you go up there and don't think about anything—you just do your job. But you can't be on auto-pilot at this event; you have to train your mind for it."


Anderson admits that there is something in the KB Racing team's approach to zMAX Dragway that seems to work. In addition to Anderson's success, his teammate Jason Line has one victory there (last fall's NHRA Nationals) and currently holds the track record at elapsed time (6.493 seconds) and speed (213.91 MPH).


"It's our home track, so we have spent a lot of hours testing at zMAX," said Anderson. "All of those trips down the race track definitely play into our success, but there is something else about it that we just can't quite explain. We're just in our comfort zone here.


"We consider this race track to be the best on the tour, and we're lucky to call it home," Anderson continued. "When the Mello Yello Series comes to town, we love being able to bring our crew members who usually stay back at the shop and work their fingers to the bone while we're off chasing the countryside. They get to come out and can lend a hand, an opinion, and moral support. Our families will all be there, and it just makes for a great weekend."


Anderson will arrive at zMAX in pursuit of his first win of the season. The unusually slow start for the 74-time national event winner has only stoked the determination of the Summit Racing crew to return to the winner's circle.


"We tested hard before this race," said Anderson. "I really and truly believe that we're turning a corner with these Summit Racing Camaros. We should be able to run fast this weekend, and that should carry through to the upcoming races as well. Deep down, this team has a good, confident feeling, and we're going to make the most out of this weekend."


Greg Anderson By the Numbers: Dollar General NHRA Four-Wide Nationals
3 – Wins at zMAX Dragway coming into this weekend, the most by any pro-class driver.
11 – Elimination round wins by Greg in his previous seven starts at zMAX


Event Schedule
Friday, April 19: Two qualifying sessions at 2:30 and 4:45 pm
Saturday, April 20: Two qualifying sessions at 12:15 and 2:30 pm
Sunday, April 21: Final eliminations starting with Top Fuel at noon


Television Coverage on ESPN2 (all times Eastern)
Qualifying: Saturday, April 20, 5:00 - 7:00 pm
Eliminations: Sunday, April 21, 7:00 - 10:00 pm