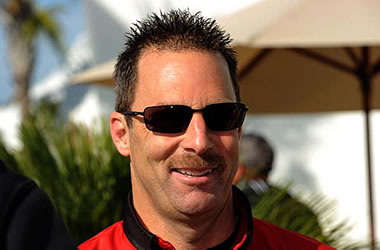 4/3/2013 - News
Anderson's Expectations High with Two Titles Up for Grabs in Vegas
This weekend's SummitRacing.com NHRA Nationals at The Strip at Las Vegas Motor Speedway will provide two opportunities for Pro Stock racers to get into the winner's circle: the main event and the K&N Horsepower Challenge. Summit Racing driver Greg Anderson expects great things during this "double-down" weekend, and rightfully so. Anderson has won seven victories at The Strip, more than any other professional driver on the Mello Yello circuit.


The KB Racing team was deeply motivated to succeed by the outcome of their first showing at 'The Strip.'


"Las Vegas was a tough place when we first formed this team with Ken Black," admitted Anderson. "I'll never forget our first race there (in 2002) because we didn't qualify. Starting off that way at Ken's home track was a real heartbreaker. But because of that, we've spent a lot of time testing in Las Vegas, and we've won a lot of high pressure, high stakes races there. We'll be looking forward to more of that this weekend."


In addition to gunning for the SummitRacing.com NHRA Nationals title, Anderson will be looking to score the coveted K&N Horsepower Challenge crown—something he has won four times in 10 previous appearances in the bonus competition.


"With the K&N Horsepower Challenge the same weekend as the SummitRacing.com NHRA Nationals, it adds even more to the event," said Anderson. "It seems like when there is a lot on the line, when there is extra pressure and there are all kinds of distractions, that's when this Summit Racing team does best. We want to get the trophy on both Saturday and Sunday and make Ken Back and Summit Racing proud of us. I'm going embrace that extra pressure. Hopefully, that will inspire us to give that extra 110% percent and get a Summit Racing Camaro to the winner's circle in the K&N Horsepower Challenge and again in final eliminations on Sunday.


"Any success that we've had in Las Vegas in the past is directly related to the amount of time we've spent testing and how many laps we've made down that track," Anderson continued. "It's paid off for us before, and we hope it will pay off again this weekend. There will be a lot of very important people from Summit Racing Equipment in attendance as well as Ken and all of his family, so it's time for the KB Racing team to step up to the plate."


Greg Anderson By the Numbers, SummitRacing.com Nationals Edition
5—Number One qualifiers in his previous 22 starts, most recently in 2006
7— Wins in nine final round appearances, the most by any professional driver
2010 – Year of Greg's most recent win at The Strip, defeating teammate Jason Line in the final at the NHRA Nationals in October


SummitRacing.com Nationals Schedule
Friday, April 5: Two qualifying sessions at 2:30 pm and 5:00 pm
Saturday, April 6:
• First round of K&N Horsepower Challenge at 12:30 pm
• Qualifying sessions for non-Horsepower Challenge racers at 12:40 pm and 2:20 pm
• Second round of K&N Horsepower Challenge at 2:15 pm
• K&N Horsepower Challenge final at 3:25 pm
Sunday, April 7: Final eliminations starting with Top Fuel at 11:00 am


ESPN2 Television Coverage (all times Eastern)
Qualifying: Saturday, April 6, 8:00-10:00 pm
Eliminations: Sunday, April 7, 11:00 pm-2:00 am