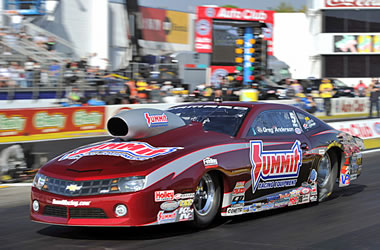 4/30/2014 - News
Anderson Returns to Competition in Houston
Team Summit's Greg Anderson returned to NHRA competition at the O'Reilly Auto Parts NHRA SpringNationals in Houston. The four-time NHRA Pro Stock champion was absent from the first five events of the tour while recovering from heart surgery.


Medically cleared to race the Monday before the SpringNationals, Anderson had no trouble getting back to work. His first pass of 2014 was a 6.636 second, 209.92 MPH run during the first round of qualifying on Friday. He followed up with a 6.607/210.54 pass in the second round, a 6.601/210.34 in the third, and a 6.628/ 210.21in the final qualifying round. The 74-time national event winner placed 11th on the qualifying ladder, continuing a qualifying streak that now spans 258 races.


In Round One of eliminations against Jeg Coughlin, Anderson clocked an excellent .015-second reaction time. His opponent countered with a .005 second RT and took the win, 6.609/210.08 to Anderson's 6.670/209.36.


Despite the first round loss, Anderson was happy with his first race.


"I'm having fun being back behind the wheel and driving," said Anderson. "I wanted to come back and have fun this weekend and prove that I can do it again, that I was physically okay. This weekend certainly answered a lot of questions and cleared up any reservations I had. There should be no issue going forward, and nobody is going to give me any more sympathy – especially any of these racers when I line up against them. Now I have to win races if I want to make the Countdown to the Championship. It's time to get back to hard-nose racing, and I'm ready."


Anderson is currently 20th in the Pro Stock points standings.


Line Number 3 in Pro Stock Standings
Summit Racing Pro Stock driver Jason Line had hoped to defend the O'Reilly Auto Parts NHRA SpringNationals title he earned last season. The 32-time NHRA Pro Stock winner fell short of fulfilling the goal, but did earn enough points to maintain a position near the top of the points standings.


Line experienced mechanical issues during the first round of qualifying that placed him in at the bottom of the pack. He recovered nicely during Saturday's qualifying sessions, moving up to seventh with a 6.636/210.93 pass.


In Round One of eliminations, Line used a .060 second starting line advantage to defeat Chris McGaha 6.626/209.69 to 6.611/210.60. Line's day ended in round two when Erica Enders-Stevens was first to the finish line, 6.577/211.26 to Line's 6.639/ 209.75.


"Today was certainly not the day that we hoped for," said Line. "But we learned some things with our Summit Racing Chevrolet Camaros, and there were positives, too. It was also great to have my teammate Greg Anderson back, and Jimmy Alund, who did a really good job filling in for Greg while he was gone, was here, too. The team is definitely looking forward to racing in Atlanta at the Summit Racing Equipment NHRA Southern Nationals in a few weeks. We'll be ready."


Team Summit Results: Top Fuel
Doug Kalitta qualified sixth (3.793/321.35). He defeated Bob Vandergriff in Round One of eliminations, but lost to Shawn Langdon in Round Two. Kalitta is currently second in the points standings
J.R. Todd qualified fifth (3.792/321.42), but lost to Leah Pritchett in Round One. He is currently 10th in the points standings.


Team Summit Results: Funny Car
Tim Wilkerson qualified eighth (4.118/307.72) but lost to Chad Head in Round One. He is currently ninth in the points standings.
Del Worsham qualified Number One (4.051/314.68). He defeated Courtney Force in Round One and Chad Head in Round Two, but lost in the semis to Robert Hight. Worsham is currently fourth in the points standings.
Alexis DeJoria qualified fifth (4.076/311.70). She defeated Tony Pedregon in Round One, but lost to Robert Hight in Round Two. DeJoria is currently third in the points standings.


Team Summit Results: Pro Modified
Kenny Lang did not qualify for the event.


Final Round Results
Top Fuel: Antron Brown defeated Khalid alBalooshi, 3.793/317.72 to 4.433/184.67.
Funny Car: Robert Hight defeated Jack Beckman, 4.055/314.90 to 4.176/308.43.
Pro Stock: Erica Enders-Stevens defeated Allen Johnson, 6.594/210.60 to 6.588/210.28.
Pro Modified: Mike Janis defeated Mike Castellana, 5.927/244.56 to 5.904/243.33.


Next Race
The next event is the Summit Racing Equipment Southern Nationals, May 16-18 in Commerce, Georgia. Go to http://www.DragRaceCentral.com for more news and in-depth results from the O'Reilly Auto Parts NHRA SpringNationals.