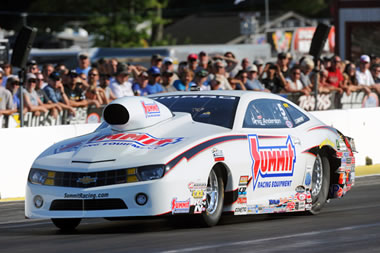 7/18/2013 - News
Anderson Ready to Rise to the Challenge in Denver
Greg Anderson and the Summit Racing Pro Stock team have worked hard to get a jump-start on this weekend's Mopar Mile-High Nationals in Denver, Colorado. With high-altitude conditions that significantly impact Pro Stock's naturally aspirated engines, the event presents some of the most challenging conditions on the Mello Yello Drag Racing Series tour.


Anderson's crew made the trek to Denver's Bandimere Speedway right after the Summit Racing Equipment NHRA Nationals over the July 4th weekend. After making over two dozen test runs, the team had a fresh batch of information that will come into play this weekend in Denver's thin, horsepower-robbing air.


"We were able to determine what the Summit Racing Chevrolet Camaro didn't like, so we'll add up what worked and what didn't and come up with what we think is the best package," said Anderson. "If you don't test here, you're in test mode during every run of the race trying to find something that works. Hopefully we're a little bit ahead of the game this time around."


Anderson has won twice and has four Number One qualifiers to his credit at Bandimere Speedway. Although the cars run dramatically slower here than elsewhere on the Mello Yello tour, winning rounds requires more than masterful tuning—the driver must be on his game to determine the right shift points to get the car down the track in the thin air.


"From the driver's seat of the Summit Racing Chevy Camaro, you don't realize you're going any slower," said Anderson. "You have to change the car so drastically so it will act like it has power. You go through the first four gears quicker than you do at sea level. Driving the car up here is actually tougher on the driver. It's a challenge all around, but it's certainly one that the KB Racing team will rise to."


Greg Anderson By the Numbers, Mopar Mile-High NHRA Edition
2—Event wins coming into this weekend, most recently in 2008
4—Number One qualifying performances
19— Elimination round wins in 12 starts


Event Schedule (All Times Mountain)
Friday, July 19: Two qualifying sessions at 5:15 and 7:15 pm
Saturday, July 20: Two qualifying sessions at 1:45 and 4:45 pm
Sunday, July 21: Final eliminations starting at 11:00 am


Television Coverage on ESPN2 (All Times Eastern)
Qualifying: Saturday, July 20 from 10:00 pm to 12:00 am
Eliminations: Sunday, July 21 from 6:00 to 9:00 pm