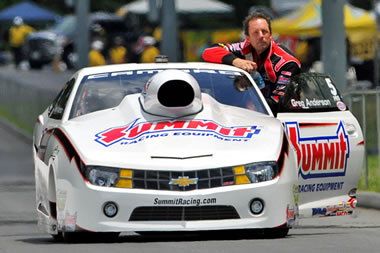 7/29/2013 - News
Anderson Makes Semifinals in Sonoma
Greg Anderson showed continued improvement on the way to a semi-final round finish at the NHRA Sonoma Nationals this past weekend.


Anderson, a four-time winner at Sonoma Raceway, qualified fourth with a 6.545 second, 210.57 MPH pass. He drew JR Carr for Round One of eliminations. Anderson cut a .010 second reaction time and ran a 6.571/ 211.36 to take the win. In Round Two, Anderson cut another .010 second reaction time on his way to defeat driver V. Gaines with a 6.559/ 211.30 to 6.541/212.06.


Anderson met up with Vincent Nobile in the semi-finals, but he left the starting line time .071 second too soon, handing the win to Nobile.


"I don't know if I saw a flash of some sort or what, but something told me to let the clutch out, and I let it go," said Anderson. "I tried to stop halfway out, but it was too late. It slipped the clutch real bad because I tried to catch it; I double clutched it, basically. I just thought it was time to go, and it wasn't."


"The good news is the Summit Racing Chevy Camaro is running better," Anderson continued. "We were within a couple-hundredths of the fast guys. That's the closest we've been for quite a while. We'll try to build on the positives that we uncovered and try to race error-free next weekend."


With just three races to go before the Countdown to the Championship, Anderson is currently seventh in the Pro Stock points standings.


Line Makes Early Exit
Jason Line is looking ahead to the Pacific Northwest Nationals after a weekend in Sonoma that fell short of expectations. He made his best pass in the final round of qualifying, clocking a 6.568/211.10 mph to qualify ninth.


Line squared off with Vincent Nobile in Round One of eliminations. Nobile got a .007 second advantage at the starting line, and parlayed that into a win, 6.565/210.70 to Line's 6.573/210.97.


"That is certainly not what I was hoping for," Line said. "This has historically been a very good race track for us, but this weekend we just came up short. I'm very glad that we get to go to Seattle next. We will be working very hard to make sure it's a better weekend for the Summit Racing team."


Line is currently sixth in the Pro Stock points standings.


Team Summit Results: Pro Stock
Larry Morgan qualified 11th (6.583/209.95) and lost to Rickie Jones in Round One of eliminations. He is currently 12th in the points standings.
Rickie Jones qualified sixth (6.554/210.80). He defeated Larry Morgan in Round One, but lost to Allen Johnson in Round Two. Jones is currently 11th in the points standings.


Team Summit Results: Funny Car
Tim Wilkerson qualified fifth (4.026/314.09) but lost to Johnny Gray in Round One. Tim is currently eighth in the points standings.


Final Round Results
Top Fuel: Shawn Langdon defeated Morgan Lucas, 3.920/240.47 to 4.628/183.69.
Funny Car: Ron Capps defeated John Force, 4.085/307.79 to 4.072/311.13.
Pro Stock: Vincent Nobile defeated Jeg Coughlin, 6.572/208.59 to 7.627/137.95.
Pro Stock Motorcycle: Hector Arana Jr. defeated Matt Smith, 6.878/195.45 to 6.877/195.45.


Next Race
The next event is the O'Reilly Auto Parts NHRA Northwest Nationals, August 2-4 in Seattle, Washington. For more news and in-depth results from the NHRA Sonoma Nationals, go to http://www.DragRaceCentral.com.