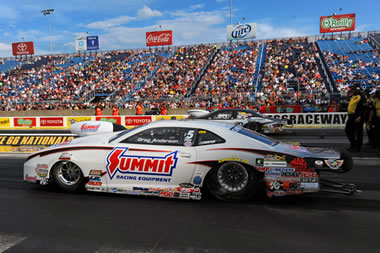 7/2/2013 - News
Anderson Makes Final Round at Route 66 Nationals
Greg Anderson defeated a group of serious challengers on the way to his first final round of the season at the O'Reilly Auto Parts Route 66 NHRA Nationals in Chicago.


Anderson qualified fourth with a strong 6.569 second/209.30 mph pass, his best start since the Summit Racing Equipment Southern NHRA Nationals in Atlanta. Anderson got the jump on V. Gaines in Round One of eliminations with a .016-second reaction time. Anderson finished the job at the top end, taking the win with a 6.619/208.94 pass to Gaines' 6.602/208.94.


Anderson met up with Erica Enders-Stevens in Round Two. Anderson was first off the starting line once again, and his .002 second advantage was the deciding factor in his 6.662/206.67 to 6.660/207.43 win. The margin of victory was just .0008 of a second.


Next to fall was Number One qualifier Mike Edwards. Anderson got the Summit Racing Camaro off the starting line with a near-perfect .002-second reaction time, then parlayed that advantage into a win, 6.672/208.33 to Edwards' quicker and faster 6.640/209.62.


Anderson continued his starting line streak in the final round against Jeg Coughlin. Anderson's .009 second advantage was not enough to take the win as the Summit Racing Camaro experienced tire shake near mid-track, forcing him to shut down coast to the finish line.


"You can't let your guard down out here at any time," said Anderson. "Second and third round, running Erica and Mike and not having lane choice—those were big rounds. I got lucky, but I'm happy about those wins."


"I ran very well during qualifying, and that definitely put a smile on all of our faces over here in the Summit Racing camp," Anderson continued. "I was happy to get the win light three times today, and what happened here this weekend is a morale booster. The bottom line is that we did this as a team, and that's good. Right now, I'm glad we go to Norwalk next week. The more we're on the track, the better we'll be."


Anderson moves up a spot to seventh place in the Pro Stock points standings.


Line Makes Second Round in Joliet
Jason Line marked progress at Route 66 Raceway this weekend. After qualifying sixth with a 6.584/209.33 pass, Line defeated Mark Martino in Round One of eliminations, 6.590/209.52 to 6.722/206.89. Line got the jump on Jeg Coughlin in Round Two with a .031 second reaction time, but shook the tires and gave his rival the win.


Line counted the positives and is aiming to continue his progress as the Countdown to the Championship comes into view.


"I was pleased with the 60-foot times we saw with my Summit Racing Camaro," said Line, "If we hadn't shaken the tires in the second round, we would have won and gone down a decidedly different path. But the Summit Racing team definitely took a step forward."


Line will have another chance to move up in the points standings when the Mello Yello circuit makes its annual stop in Norwalk, Ohio for the Summit Racing Equipment NHRA Nationals this coming weekend.


"The Summit Racing team is pretty excited to get back to Norwalk," said Line. "It's a race we look forward to all year, and this weekend in Chicago was a good warmup. We're sure going to try to go a couple of steps further next week."


Line is currently fourth in the Pro Stock points standings.


Team Summit Results: Pro Stock
• Larry Morgan qualified 10th (6.604/207.62) but fell to Shane Gray in Round One of eliminations. He is currently 12th in the points standings
• Rickie Jones qualified 12th (6.625/208.30) but was defeated by Erica Enders-Stevens Round One. He is currently 14th in the points standings


Team Summit Results: Funny Car
Tim Wilkerson qualified 10th (4.060/306.74). He defeated Courtney Force in Round One, but lost to Bob Tasca III in Round Two. Wilkerson is currently eighth in the points standings.


Route 66 NHRA Nationals Final Round Results
Top Fuel: Tony Schumacher defeated Clay Millican, 3.930/269.29 to 4.094/171.77.
Funny Car: Matt Hagan defeated John Force, 4.065/315.34 to 4.113/304.80.
Pro Stock: Jeg Coughlin defeated Greg Anderson, 6.603/209.85 to 11.680/74.15.
Pro Stock Motorcycle: Michael Ray defeated Matt Smith, 6.986/191.29 to 6.992/190.22.


Next Race
The next event is the Summit Racing Equipment NHRA Nationals, July 4-7 in Norwalk, Ohio. For more news and in-depth results from the Route 66 NHRA Nationals, go to http://www.DragRaceCentral.com.