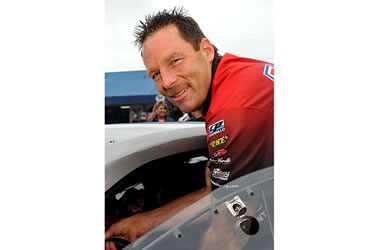 5/2/2013 - News
Anderson Looks to Continue Success in Atlanta
Many drivers in NHRA's Mello Yello Drag Racing Series have a preferred race track—a place where they seem to understand the conditions a little bit better than the competition. For Summit Racing Pro Stock driver Greg Anderson, that track is Atlanta Dragway. He plans to be in top form this weekend as he defends his 2012 title at the 33rd annual Summit Racing Equipment NHRA Southern Nationals.


"There is no question about it, you do have confidence coming to a race track where you've had so much success before," said Anderson. "I've had a lot of experience at Atlanta Dragway. It was a home track for me for a long time, and I'd like to think that the experience I gained during that time has helped KB Racing through the years."


In the early part of Anderson's career—a career that has included 74 national event wins and four world championship titles—he was based in the Atlanta area as a crew member and crew chief for legendary Pro Stock driver Warren Johnson. Anderson was with Johnson for 12 years before starting his Pro Stock driving career.


Anderson's success in Atlanta began in 2001, when he qualified Number One for the first time in his career and made the final round. The Mooresville, North Carolina-based driver has earned six Number One qualifiers and four wins in eight final round appearances. Anderson has met Summit Racing teammate Jason Line in the final round three times. He won in 2005 and 2012, while Line won in 2011. Anderson also currently holds the Atlanta Dragway track record for elapsed time (6.557 seconds).


"This is certainly a favorite race for Team Summit," said Anderson. "When Summit Racing's name is on the billboard, there is a little bit of extra pressure and incentive to excel. We like it when there is more on the line; we seem to be able to give a little bit extra and get the job done. We've put both Summit Racing cars in the final for two years in a row, so we'd like to do that again. Atlanta can be either hot and humid or cool and damp, but we have a lot of race day data to go on, so there is a comfort level there. This is definitely a race that we look forward to, and this year is no exception."


Greg Anderson By the Numbers, Summit Racing Equipment Southern Nationals Edition
4—Wins coming into this weekend, most recently in 2012
6—Number One qualifying positions
6.557—Atlanta Dragway Pro Stock elapsed time track record, set by Greg in 2009
8— Final round appearances in 14 prior starts


Event Schedule
Friday, May 3: Two qualifying sessions at 4:30 and 6:30 pm
Saturday, May 4: Two qualifying sessions at 12:30 and 2:30 pm
Sunday, May 5: Final eliminations starting with Top Fuel at 11:00 am


Television Coverage on EPSN2 (all times Eastern)
Qualifying: Saturday, May 4, 6:00-8:00 pm
Eliminations: Sunday, May 5, 8:00-11:00 pm