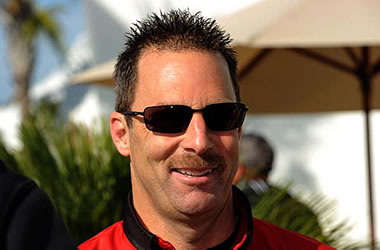 5/16/2013 - News
Anderson Looking to Continue Resurgence with Topeka Win
Greg Anderson's resurgence gathered steam at the weather-delayed Summit Racing Equipment Southern Nationals—and the four-time Pro Stock champion plans to continue that resurgence this weekend at the 25th annual NHRA Kansas Nationals at Heartland Park Topeka.


The KB Racing team dominated at this track from 2003 to 2007, earning four event titles and three Number One Qualifier awards. The only Pro Stock competitor with a better record in Topeka is Warren Johnson with five victories.


After a Kansas dry spell, Anderson returned to form last season when he qualified Number Two and made it to the final round. What's more, he recorded the top speed of the event (211.30 miles per hour). Summit Racing teammate Jason Line recorded Low ET (6.566 seconds), giving the Summit Racing team two Heartland Park Topeka track records.


"We're hoping to build on what we did in Topeka last year and take it one round further," said Anderson. "Thankfully, we know how to run fast there again, and we're on an upswing with our Summit Racing Chevrolet Camaros. We should be able to go to Topeka and come away with the trophy."


The Heartland Park Topeka has historically been the site of record-setting performances in some race categories, and well known for unpredictable weather. After a series of rain-plagued events this year, NHRA drivers are hoping to catch a break with a replay of last season's picture-perfect weekend in Kansas.


"Topeka is definitely the King of Crazy Weather," said Anderson. "You never know if you're going to get twisters or record-setting temperatures, so it's definitely exciting. We've experienced a little of everything and been able to run well, so we have a lot of confidence that we can play with whatever cards Mother Nature deals us."


At this point last season, Anderson had three wins in five final round appearances. While those stats look better on paper than his 2013 pace, he feels strongly that he is in a much better position now than he was then.


"I have a lot more confidence in my car right now, especially after Atlanta and the test sessions we've had," said Anderson. "I really think we've turned a corner. My car is going to be good, and it keeps getting better each weekend. At this time last year, I didn't feel like we had a complete handle on our race car. We're closer now than we have been in a long time to making good, consistent runs, time after time.


"I'm really, really hungry for a win," Anderson continued. "The win my teammate Jason Line got a couple of weeks ago in Houston really helped this team. It gave the guys a little more drive. It's time that I find my way back to victory lane. I'm overdue, but nobody is going to hand you one of these things. You need to go out and earn it, and that's what I plan to do this weekend."


Greg Anderson By the Numbers, NHRA Kansas Nationals
3—Number One qualifying positions
4—Wins by Anderson, most recently in 2007
8—Qualifiers in the top half of the field in 11 starts
26—Elimination round wins in 11 previous starts


Event Schedule (All Times Central)
Friday, May 17: Two qualifying sessions at 5:00 and 7:00 pm
Saturday, May 18: Two qualifying sessions at 12:30 and 2:30 pm
Sunday, May 19: Final eliminations starting with Top Fuel at 11:00 am


Television Coverage on ESPN2 (All Times Eastern)
Qualifying: Saturday, May 18, 5:30-7:30 pm
Eliminations: Sunday, May 19, 8:00—11:00 pm