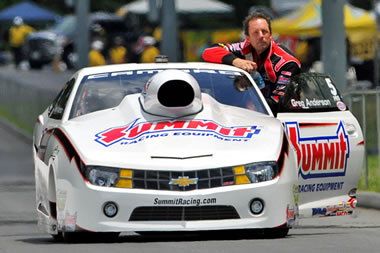 6/20/2013 - News
Anderson Embraces New England Nationals as New Opportunity
Summit Racing Pro Stock driver Greg Anderson has enjoyed a long and successful career with one of the best win-records in the history of the sport. He'll have the opportunity add to his scorecard with a victory this weekend at the inaugural NHRA New England Nationals at New England Dragway in Epping, New Hampshire.


The facility opened its doors in 1966 and is currently the only quarter-mile dragstrip in New England. Because of its sea-level elevation, the track has the potential to host prime weather conditions for the factory hot rod class.


"We love sea level racetracks, no doubt about it," said Anderson. "And because this is a new track and we''e all going there for the first time, it's a level playing field. Nobody has home-court advantage or more laps there than anyone else. Hopefully that will work in our favor. The Summit Racing crew is a great team, and our experience will help us master whatever that track has to offer."


Anderson is currently positioned as the eighth winningest driver in any class in the history of NHRA. The 74-time national event winner has claimed a win at each of the facilities on the tour (and two that are no longer in rotation) and would love nothing better than to add New England Dragway to the list.


"Every time they put a new race on the schedule, it"s a challenge that I look forward to," said Anderson. "I"ve been very fortunate to win at every venue we have on the circuit, and it"s important to me to find a way to conquer this new one so that I can still say that I've won at every track NHRA runs at."


Anderson debuted a brand new white Summit Racing Chevy Camaro at the Thunder Valley Nationals this past weekend in Bristol, Tennessee. The car ran well, and Anderson is looking forward to making it run better.


"This is obviously a good race car, we just have to rub on it a little more and continue to learn and grow," said Anderson. "We're on track to have a couple of very happy hot rods.


"We look forward to this first race in New Hampshire, and hopefully, we'll go there and run fast with our Summit Racing Chevy Camaros, "Anderson continued. "We've heard a lot about this place, and they're expecting big, big crowds. There are some real serious Pro Stock fans all up and down the East Coast, and there should be a great group there. To be honest, none of us can wait to get there."


Greg Anderson By the Numbers, NHRA New England Nationals
22 – Different race tracks where Anderson has won in Pro Stock
323 – Career total NHRA Pro Stock events Anderson has competed in


Event Schedule
Friday, June 21: qualifying at 4:45 pm and 6:45 pm
Saturday, June 22: qualifying at 12:15 pm and 2:15 pm
Sunday, June 23: eliminations beginning at 11 am


Television Coverage on ESPN2 (all times Eastern)
Saturday, June 22: 8-10 pm (qualifying)
Sunday, June 23: 7-10 pm (eliminations)