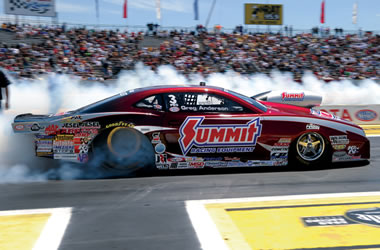 2/25/2013 - News
Anderson and Line Reboot in Phoenix
The second stop of the Mello Yello Drag Racing tour, the NHRA Arizona Nationals, saw a huge performance improvement from the Summit Racing Pro Stock duo of Greg Anderson and Jason Line, as they both posted strong semifinal finishes.


Anderson and Line put previous qualifying struggles at Firebird Raceway in the rearview mirror as they earned the Number 3 (Line) and Number 4 (Anderson) positions with nearly identical 6.53 second passes at 212.56 miles per hour.


On race day, Anderson squared off against Number 13 qualifier Matt Hartford in Round One of eliminations. Anderson left first and crossed the finish line well ahead of his opponent, 6.543/212.63 to 6.608/210.73. On the opposite side of the ladder, Line recorded the win against Deric Kramer, 6.554/212.83 to 6.609/209.79.


Anderson scored an impressive holeshot win in his red Summit Racing Camaro during Round Two over current champion Allen Johnson, 6.556/211.96 to 6.549/212.53. Line wheeled his blue Summit Racing Camaro out of the gate dead-even with Jeg Coughlin, Jr. but built up a strong lead by the time they tripped the final timer, 6.538/212.76 to 6.581/212.59.


In the semifinals, Line was amped up for the win but spun the tires instantly when the lights flashed green. Although he was able to keep his Camaro heading straight down the track, the early trouble bit into Line's elapsed time and he lost the round to Erica Enders-Stevens, 6.619/212.76 to 6.563/212.19. Anderson was halted in the semifinals by a broken spark plug, slowing to a 7.552/132.32 while opponent Mike Edwards moved on with the winning 6.522/213.50 run.


"We're still not quite where we want to be–in the winner's circle at the end of the weekend–but I was able to make a couple of good runs under power through the finish line, and that is a lot better than last week," said Anderson. "It's tough for us to be happy making it to the semifinals, because we always want to go all the way with our Summit Racing Camaros. The good news is that we have two weeks off before the next race (in Gainesville), and we're going to work. We'll go testing and work on our performance so that when we show up, we'll be right where we want to be."


"Both of our KB/Summit Racing cars were better in Phoenix than they were last week in Pomona, so we're seeing progress," said Line. "It wasn't a great day because we didn't get a Summit Racing car to the final, and we had the opportunity to get them both there so that's pretty disappointing. But it was a better day, and it was a step forward."


Line and Anderson are currently sixth and seventh, respectively, in the Pro Stock points standings.


OTHER TEAM SUMMIT RESULTS: PRO STOCK
• Larry Morgan qualified 15th with a 6.633/209.10. He lost to V. Gaines in the first round of eliminations. Morgan is 17th in the points standings.
• Kurt Johnson failed to qualify for the race. Johnson is 16th in the points standings.
• Warren Johnson failed to qualify for the race. Johnson is 20th in the points standings.
PRO STOCK FINAL ROUND RESULTS: Erica Enders-Stevens defeated Mike Edwards, 6.538/211.99 to 6.520/213.74.


TEAM SUMMIT RESULTS: FUNNY CAR
Tim Wilkerson qualified eighth with a 4.110/305.01. He overcame Del Worsham and Robert Hight before losing to Ron Capps in the semifinals. Wilkerson is seventh in the points standings.
FUNNY CAR FINAL ROUND RESULTS: Ron Capps defeated Matt Hagan, 4.064/314.90 to 4.158/300.33.


TOP FUEL FINAL ROUND RESULTS: Tony Schumacher defeated Morgan Lucas, 4.606/213.20 to 4.652/258.67.


NEXT RACE
For up-to-the-minute drag racing news and in-depth results for the 2013 NHRA Mello Yello Drag Racing Series, visit http://www.dragracecentral.com/. Drag Race Central has all the drag racing news about your favorite professional and sportsman class drag racing teams, including feature stories, press releases, and photos. Check it out today!