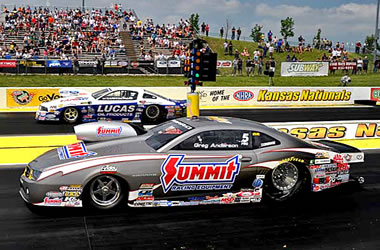 5/20/2013 - News
Anderson and Line Get Smoother at Topeka
NHRA Pro Stock drivers Greg Anderson and Jason Line produced some of their smoothest runs so far this year at the 25th annual NHRA Kansas Nationals at Heartland Park Topeka. The ability to make smooth, consistent runs is key to going fast and winning races. After struggling with tire spin at recent events, Anderson was pleased that he and teammate Line's Summit Racing Camaros were able to make a series of clean passes down Heartland Park Topeka's quarter-mile.


"The cars are going down the track every time and they feel very good—they're just not running fast yet," said Anderson. "We've definitely gotten better and sorted out the problems we were having earlier, but you have to have both a repeatable car and run fast. We know it's there; we just have to zero in on it. Team Summit is a very capable group, and it's time we show what we're capable of."


The four-time Pro Stock champion qualified sixth with a 6.655 second, 207.85 mile per hour pass. Anderson halted veteran racer Larry Morgan in Round One of eliminations, 6.707/206.26 to 6.723/205.16. In Round Two against Allen Johnson, he cut a very quick .017-second reaction time, but clutch slippage off the line cost Anderson the race.


"This weekend, the Summit Racing Camaros weren't running as fast as we believe they truly can," said Anderson. "We cannot expect to win races at this pace, so we're glad we have a week off before it's time to go racing again. That will give us a chance to really figure things out so that we can go to Englishtown and really show our potential."


Anderson is currently eighth in the Pro Stock points standings.


Line Exits Early in Topeka
Jason Line qualified seventh with a 6.657/208.20 pass. He made a quicker and faster 6.704/204.89 pass in Round One of eliminations against Matt Hartford, but Hartford's quicker reaction time gave him the win by just .009-second.


"It's disappointing," said Line. "What we have to do is understand why we aren't as fast as we should be. That's our mission right now, because until you understand exactly why something isn't working how you think it should be, you aren't going to be able to make it any better. So we'll be back at work tomorrow, and we'll be looking for answers. We plan to have the Summit Racing Camaros ready to go fast in Englishtown in two weeks."


Line is currently fifth in the Pro Stock points standings.


Team Summit Results: Pro Stock
• Larry Morgan qualified 11th (6.668/206.99) but lost to Greg Anderson in Round One of eliminations. He is currently 12th in the points standings.
• Rickie Jones qualified 12th (6.669/207.88). He defeated Shane Gray in Round One but lost to Jeg Coughlin in Round Two. Jones is currently 14th in the points standings
• Warren Johnson did not attend the event. He is currently 19th in the points standings
• Kurt Johnson did not attend the event. He is currently 16th in the points standings
FINAL ROUND RESULTS: Jeg Coughlin defeated Allen Johnson, 6.680/206.20 to 6.698/206.57.


Team Summit Results: Funny Car
Tim Wilkerson qualified seventh (4.071/310.55) but lost to Ron Capps in Round One. Wilkerson is currently sixth in the points standings.
FINAL ROUND RESULTS: Johnny Gray defeated Robert Hight, 4.067/314.90 to 5.085/149.40.


Top Fuel Final Round Results
Shawn Langdon defeated Tony Schumacher, 3.750/324.20 to 3.781/327.27.


Next Race
The next event is the Toyota NHRA Summernationals, May 30 to June 2 in Englishtown, New Jersey. For more news and in-depth results from the NHRA Kansas Nationals, go to www.DragRaceCentral.com.