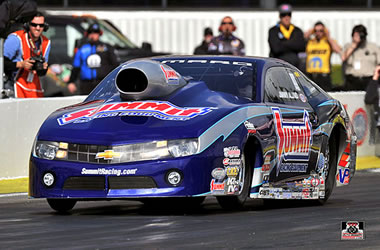 2/20/2014 - News
Alund Prepared for Continued Progress in Phoenix
Sweden's eight-time FIA European Pro Stock champion Jimmy Alund is rapidly proving himself a wise choice to pilot Summit Racing Pro Stock driver Greg Anderson's Camaro while the four-time champion is recovering from successful heart surgery. Alund had a strong outing at the season-opening NHRA Winternationals and is ready to slide back into the second blue Summit Racing Chevrolet Camaro at this weekend's CARQUEST Auto Parts NHRA Nationals near Phoenix, Arizona.


Alund has fit right in with the KB Racing team—and the competition—since his first American race day in Pomona. Alund qualified tenth with a solid 6.546/211.86 pass to make it into Sunday's elimination rounds. The field was exceptionally tight with just .08-second separating the Number One and Number 16 qualifiers.


"From my end, I think everything went really smooth," said Alund, "I'm really happy to be with the team, and it's a big privilege to be there. We all work well together, and it feels like I blended right in. I hope it's not just me that thinks that!"


As the tour heads to Wild Horse Pass Motorsports Park, Alund believes the team should have an advantage as they wisely tested on the track's newly refinished racing surface just before the Winternationals. Despite a red-light loss in Pomona, Alund feels as though he is on the right track to illuminate a different light for the KB Racing crew—the win light.


"It definitely feels more comfortable that we have been to Phoenix already and made several runs down the race track," said Alund. "The comfort level will be a lot higher than it was at Pomona for me, so surely that is going to help.


"I actually feel very welcome racing with the NHRA," Alund continued. "Everybody is very friendly, and it's been a really good experience. I wish I had done a little bit better job in Pomona, but I learned something, and I think we can adjust the car and the driver now. I was really happy on Sunday after Jason won the race because we won as a team. Next time, maybe we can run the final together."


CARQUEST Auto Parts NHRA Nationals Schedule
Friday, February 21: Two qualifying sessions at 1:30 and 4 pm
Saturday, February 22: Two qualifying sessions at 1:30 and 4 pm
Sunday, February 23: Final eliminations starting at 11:00 am


Television Coverage on ESPN2 (All Times Eastern)
Qualifying: Sunday, February 23, 2:00–3:30 am and 8:00-9:00 am
Eliminations: Sunday, February 23, 8:00-11:00 pm