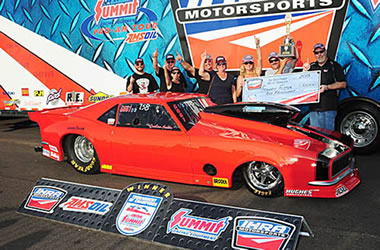 10/18/2013 - News
2013 Summit Racing Tournament of Champions and Super Series Winners
From the northern corner of British Columbia to the southern tip of Florida, the International Hot Rod Association saw its most diverse lineup of world champions ever as the IHRA wrapped up its 2013 season October 13 at the Summit Racing Equipment World Finals at Memphis International Raceway.


Tornament of Champions
All six of IHRA's Summit Racing Equipment Pro-Am Tour divisions were represented in Sunday's Tournament of Champions finale:
TOP SPORTSMAN: Graham Foster, Fort St. John, British Columbia (pictured)
TOP DRAGSTER: Araon Cowan, Bulverde, Texas
SUPER STOCK: Jimmy Hildago, Jr., Donaldsonville, Louisiana
STOCK: Wes Neely, Florence, Mississippi
QUICK ROD: John Dustin, Rockville, Maryland
SUPER ROD: Dave Marcus, Jr., Sarasota, Florida
HOT ROD: Daryl Griffin, Pittsboro, North Carolina


All of the World Champions receive $10,000 courtesy of Summit Racing Equipment and AMSOIL, plus a special championship Ironman trophy. You can get all the Tournament of Champions details at Drag Race Central.


Summit Racing SuperSeries
The real excitement behind the Summit SuperSeries program is that anyone, anywhere can win it. Drivers from the United States, Canada and even as far away as Aruba, Alaska, and Hawaii have the opportunity to race for a track championship and, with a little luck and a lot of skill, make it all the way from their local track to the big stage at the IHRA Summit Racing Equipment World Finals at Memphis International Raceway to compete for a world championship. 2013's winners are:
TOP ET: Tim Lucas, Lillingtion, North Carolina
MOD ET: Kevin Pollard, Fincastle, Virginia
JUNIOR DRAGSTER: Justin Poindexter, Milligton Tennessee


Lucas and Pollard each won $10,000 courtesy of Summit Racing as well as a slew of other prizes. For example, Lucas won a brand new Maddox Race Cars dragster complete with a 598 cubic inch big block Ford built by Tricik Flow Specialties (see the engine build and dyno results at our blog, On All Cylinders). You can get the round-by-round SuperSeries results at Drag Race Central.