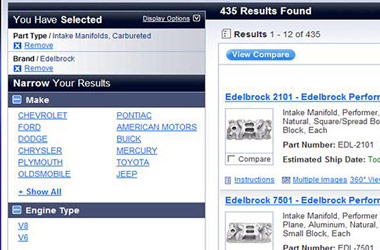 3/5/2013 - News
Tutorial: More Ways to Shop and Save!

Good news: you now have 1.1 million automotive parts right at your fingertips. That includes over 1,000 brands offering performance parts, replacement parts, tools, and accessories for over 148 vehicle makes and 3,439 models—enough to fill 17 of our typical Big Book mail-order catalogs!
Even better news: we've made it easier than ever to zero in on the parts and deals you want for car, truck, hotrod, race car, off-road vehicle, or daily driver. Here's a quick overview of how to find the parts and accessories you need fast:
Choose Your Favorite Search Method
Part Number: If you know your part number, simply type your part number into the search box on the top left side of the page, just below the Summit Racing logo. The quickest and easiest way to search, this will take you directly to the page with all the specific part information you need—specifications, applications, product description, price, and more.
Keyword: You can use the same search box, just below the Summit Racing logo, to type in the item for which you are looking. Once you hit your "Enter" button, you'll be taken to a page with the closest matches to your search phrase.

Online Store Department: If you prefer a more "brick-and-mortar" experience, you can search for your parts by visiting any one of the store departments in our online store. You can do this one of two ways: choose from the departments listed on the left side of our homepage or hover your mouse over the Store tab at the top of this page. The Store tab offers additional departments, such as Fuel Savers, New Products, and more.

Brand: Are you a brand-loyal customer? Click on the Brands tab at the top of this page, and you'll be able to search by your favorite brands. Our brands—we've got over 1,000 of them—are listed in alphabetical order.

Vehicle Year, Make & Model: Use our Make/Model search, located at the top center of this page under the Expert Advice tab, to narrow your search to only parts that fit your vehicle. Using a drop-down menu, you can enter the year, make, and model of your vehicle to find the items that fit.

Vehicle Make & Engine: Located next to the Make/Model search, this drop-down menu allows you to narrow your search to only the parts that fit your vehicle's engine.

Fine-Tune Your Search
Using your favorite search method above, you'll be presented with your initial search results—and the chance to further narrow down the results (see slide 1 above). You will be prompted to narrow your search through a number of options, which will be displayed on the left side of your screen. Check the "Search Within Results" box just below the main search box to ensure that your initial criteria are saved, and you only see parts that fit your original search method.
More specific search options may be performance-related—engine type, basic rpm operating range, mounting style, etc.—or could be product attributes like color, finish, material, price range, and more. Using these search options, you'll narrow your search results to parts that only fit your application, performance demands, and style preferences.

View Your Results
Once you've completed your custom search, you can sort through the remaining parts to find the exact item you want. First, click on the "View by Individual Parts" tab at the top of your search results. Then, use the drop-down menu (see slide 2) to display the parts in whatever order you want: numerically by part number, by best keyword match, by price, or other method.
After the parts have been displayed the way you want, you can click on each individual product name link to visit a page with product details, specifications, application information, photos, videos (in some cases), suggested parts, price, instructions, and more. At any time during the shopping process, you can opt to pick your order up in one of our three retail locations.

Shop & Compare
Can't decide which specific part to buy? We also offer a Compare function to help you choose. This function allows you to compare the product specifications of multiple parts in a side-by-side format (see slide 5). There are two ways to compare parts:
On your parts results page—the page with multiple parts listed—click on the "Compare" check box right below the product image. Each part you check will be included on the "side-by-side" page.
On the individual part page—the page with the product description, specifications, and applications—click on the blue "Compare" link just below the green "Cart" button. Once you've added the part to the side-by-side comparison page, you can click on the Back to Result link to add even more parts.
Easy Checkout
Found the item(s) you want? Click the "Cart" button to add your parts to your shopping cart (see slide 6). Once you're ready to make your purchase, checkout is easy! Simply click on the green "Checkout" button at the top of your Cart page, and you'll be prompted to decide on a payment option. You will then fill out your billing and shipping information to complete your order.
Explore the Savings
Go bargain hunting in our Savings Central section, accessible via the "Savings Central" tab at the top of the page. Here, you'll find sale items, Summit Bucks offers, manufacturer offers and rebates, and clearance items—all great ways to find additional savings above our everyday low prices.

Once you're inside Savings Central, you can select your special offer—sale, Summit Bucks offers, manufacturer offers, or clearance items—and begin narrowing your search for savings the same way you would search any part.

Great Savings & Expert Advice
Click on the blue "Customer Service" tab at the top of the page to view Frequently Asked Questions (FAQs) about ordering and shipping. You can also submit a customer service question and check your order status—you can literally track your order right to your door!

Finally, check out our "Expert Advice & News" tab for helpful technical information— including charts, guides, and performance calculators—event information, new product announcements, featured vehicles, news, and more. You can even submit a tech question to one of our helpful technical advisors.

Happy shopping—from your friends at Summit Racing!