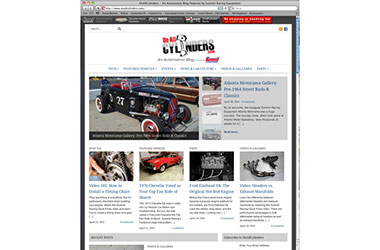 5/2/2014 - News
Summit Racing's New, Improved OnAllCylinders Blog is Now Live
Hot rodders like to tinker with things. Fix stuff. Modify it to make it better.


That's what Summit Racing has done with its OnAllCylinders blog. It's been two years since we launched the site, so we decided to do a little tuneup work and get with the times.


OnAllCylinders 2.0 is now automatically formatted to fit your tablet or smart phone. That means you can access the latest news, event coverage, tech story, or any of our 1,200+ plus (and counting) posts while you're on the go.


OnAllCylinders is easier to use on your desktop or laptop computer, too. There are larger feature images and more stories out on the homepage so you can easily browse more of the latest posts. We've tuned up our Recommend Posts feature so you can find automotive and powersports performance articles from other sources. And our new commenting system gives you more ways to provide feedback to our stories, interact with others, and ask questions.


Take OnAllCylinders 2.0 for a spin and let us know what you think!