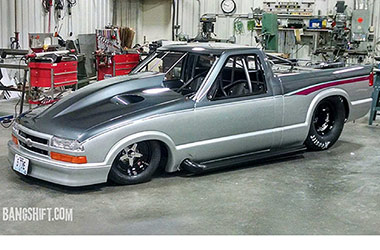 8/29/2014 - News
Larry Larson and Bangshift's Chad Reynolds Unveil Their Drag Week Monstermobile
After sitting on the sidelines for 2013's Hot Rod Magazine Drag Week, five-time Drag Week winner Larry Larson is back with a twin-turbo vengance for 2014. He and partner-in-crime, Bangshift.com's Chad Reynolds, just revealed the vehicle that will strike fear into the hearts of Drag Week's Unlimited Class competitors: a full-on Pro Mod 1998 Chevy S-10 pickup.


Larry and Chad haven't divulged a lot of specs yet, but the story says the S-Dime will have a factory steel roof, cab, and bedisde panels sitting on a Larson-built 25.2-spec tube chassis. The boys don't say what's under the hood, but the teaser photos show a fuel injected big block with twin Precision turbos mounted on each side of the firewall. And big honkin' sidepipes. SIDEPIPES!


According to Larry and Chad, the S-10 was built to the limits of the Unlimited class, of which there are precious few.


"It's a Pro Mod car, but it has the factory VIN, is way more steel than anyone would believe," Chad explains in the story. "And as Larry and I have both said, they decided Unlimited was going to be Unlimited, so here we go."


And full confession: Summit Racing knew all about this bad boy from the get-go, and we supplied a bunch of parts to help Larry and Chad get this project off the ground and out onto the highways and race tracks of Drag Week. Because sidepipes.


Not being folks who spill all the beans at once, we encourage you to vist BangShift.com to get the full scoop on Larry and Chad's Drag Week Monstermobile. You'll like what you see.