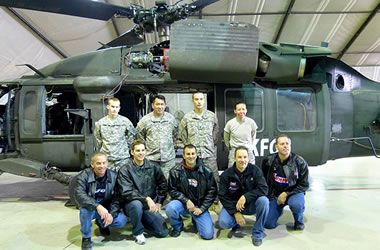 11/21/2013 - News
Follow Operation Appreciation at OnAllCylinders!
Operation Appreciation, Summit Racing Equipment's and Armed Forces Entertainment's (AFE) annual visit to American troops stationed in the Middle East, may be over--but thanks to OnAllCylinders, you can get a taste of the trip through blogs from the Summit Racing and Harley-Davidson racers who made the journey.


After three years of visiting American personnel based in Europe, Operation Appreciation has gone to bases in Kuwait, the United Arab Emirates (UAE), and Bahrain. Joining Summit Racing drivers Greg Anderson (NHRA Pro Stock), Jason Line (NHRA Pro Stock), and Dan Runte (Summit Racing/BIGFOOT monster truck) are Harley-Davidson Screamin' Eagle/Vance & Hines riders Eddie Krawiec and Andrew Hines. Each racer will be writing a blog about his experiences on the trip, which will be posted at OnAllCylinders during the week.


Operation Appreciation coverage wraps up with Eddie Krawiec's blog on his experiences in Bahrain--no camels were injured during his visit. You get Operation Appreciation updates on Summit Racing's Facebook and Google+ pages and via Twitter.