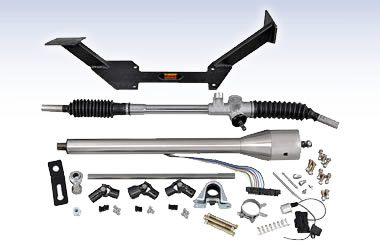 5/23/2013 - Media
Flaming River Rack and Pinion Cradle Kits Now Available at Summit Racing Equipment
Replace your musclecar's antiquated steering with modern rack and pinion responsiveness.


What They Are: Flaming River Rack and Pinion Cradle Kits


Why They're Cool: No more sloppy steering. Flaming River's patented Rack and Pinion Cradle Kits allow you to replace your car's old, unresponsive recirculating-ball steering system with a modern rack and pinion system. The kits feature a welded cradle that bolts in with no cutting, drilling, or welding required.


Most kits are available with manual or power steering units. All kits come with brackets, universal joints, and necessary hardware. Kits with power rack and pinion come with wiring connectors, a power steering pump with billet bracket and pulley, and a polished aluminum reservoir. Kits are also available with or without a Flaming River steering column.


GM Applications
• 1964-72 Chevelle/Malibu
• 1968-72 Buick/Olds/Pontiac A-body
• 1967-81 Camaro
• 1955-57 Chevy
• 1962-67 Chevy II/Nova
• 1958-60 Chevy full size (power only)
• 1963-82 Corvette (manual only)


Ford Applications
• 1965-70 Mustang
• 1955-57 Thunderbird (power only)
• 1960-65 Falcon/Comet (power only)
• 1960-64 Ford full size (power only)


Product Link: http://www.summitracing.com/search?keyword=Flaming%20River%20Rack%20and%20Pinion%20Cradle%20Kits


Where to Get One: Order online at SummitRacing.com or call Summit Racing at 1-800-230-3030


Other Stuff Worth Knowing: Complete your vehicle's modernization with a Flaming River Keyless Ignition System with pushbutton starting. The "Hands Free" programmable unit uses a remote fob and RFID proximity technology to automatically authorize your vehicle to start. The other system uses a docking station for the remote fob, plus a keyless door entry system with door lock actuators.