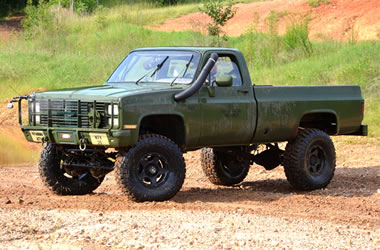 11/22/2013 - News
Build Your Own 4-Wheel & Off-Road Alabama Army Truck
A few years back, 4-Wheel & Off-Road Magazine editor Fred Williams had an old Chevy CUCV K30 U.S. Army truck stolen. He always wanted another one, so when he came across a deal on an '86 Chevy CUCV K30 in Alabama, he jumped on it—and then proceeded to return it to civilian duty. You can see the entire build of the aptly named Alabama Army Truck at Dirt Every Day, 4-Wheel's video site.


And you can duplicate the Alabama Army Truck in your very own garage--Summit Racing now offers 4-Wheel & Off-Road Alabama Army Truck Parts Combos with all the stuff Fred used on his Chevy--you supply the truck and name it after your own state.


In Part One, Williams and the crew at Off Road Connection in Fultondale, Alabama get the old diesel truck up and running. In Part Two, the truck gets a Skyjacker six inch lift kit, 38 inch BFGoodrich KM2 Mud Terrain tires, and a Detroit Locker for the front axle.


Part Three finds the old 6.2L diesel lump pitched in favor of aChevrolet Performance 6.2L LSA supercharged crate engine—the same engine used in the Cadillac CTS-V. Other parts included an Edelbrcok heat exchanger and Moroso supercharger coolant tank for the blower, a Derale oil cooler, a Classic Thunder Road gauge panel, and plumbing for the radiator and intercooler.


Summit Racing also saved the day by overnighting a new lower-stall TCI torque converter to replace the original one, which was slipping too much and causing the Turbo 400 transmission to run hot. You're welcome, Fred.


And in Part Four, Williams gets to enjoy the fruits of his (and Off Road Connection's) labors by taking the Alabama Army Truck mud-bogging, before driving the thing all the way back to California.


You can see all four episodes of the Alabama Army Truck adventure at Dirt All Day. When you're done watching those, make sure to check out all the other other cool stuff Mr. Williams has posted...and get started on your own version!