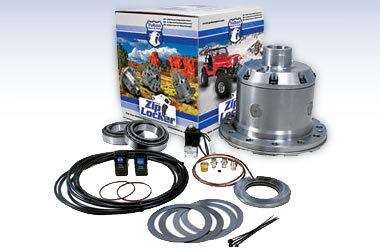 9/13/2013 - Media
Yukon Gear & Axle Zip Lockers Now Available at Summit Racing Equipment
Go from an open differential to full lockup with the flip of a switch.
Why They're Cool: A Zip Locker gives you traction when you need it. The air-operated design lets you switch from an open differential to 100 percent lockup just by flipping a switch. Unlike electronic-selectable lockers, Zip Lockers are water resistant and extremely durable.
These Zip Lockers have forged iron cases and 4320 chromoly internals for exceptional durability. All required fittings, switches, and wiring are included. An onboard air compressor and associated hardware is required, but that's still a cool deal since you can also use the compressor for other duties such as inflating tires and powering air tools. Summit Racing offers a good selection of Viair compressors that can do the job.
Applications
• Toyota 8 inch axles
• Dana 30, Super 30, 35, 44, 60, and 61 axles for many popular GM, Ford, Dodge, and Jeep vehicles
Product Link: http://www.summitracing.com/search/product-line/yukon-gear-axle-zip-lockers?SortBy=None&SortOrder=Ascending
Other Stuff Worth Knowing: Yukon Gear & Axle also offers Master Overhaul Kits for many popular axle setups. These kits include everything for a differential rebuild: bearings, seals, shims, gaskets, and hardware. More importantly, Yukon Gear & Axle includes a fully detailed instruction manual to take the headache out the process.