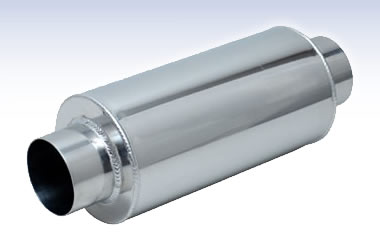 2/13/2013 - Media
Vibrant Performance Race Mufflers Now Available at Summit Racing Equipment
Get impressive power gains without breaking your track's noise regulations.
What They Are: Vibrant Performance Race Mufflers
Why They're Cool: Build a free-flowing exhaust system that won't break the bank, the rules, or your eardrums. Designed to address ever-tightening noise restrictions at tracks nationwide, these mufflers use an unrestricted "true-straight-through" perforated core that brings down the noise without bringing down performance.
The mufflers are made from T6061 aluminum or stainless steel to shave weight, and feature TIG-welded seams to withstand track use. The result is a lightweight, yet durable muffler that gives you big performance without all the racket.
Application: Available in aluminum or stainless steel, and in multiple shapes, lengths, and tubing diameters.
Where to Get Them: Order online at SummitRacing.com or call Summit Racing at 1-800-230-3030.
Other Stuff Worth Knowing: Make your exhaust system build easier by using Vibrant's Quick-Release V-Band Clamps. These clamps are better suited than old-style band clamps to withstand the stress, vibration, and heat extremes of track use. These low-profile, stainless steel clamps come in common pipe diameters and use modular connections for added strength.