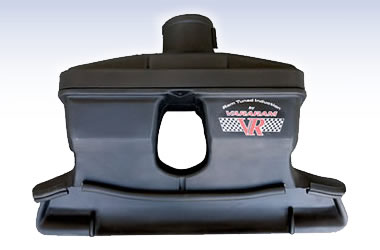 3/28/2013 - Media
VaraRam VR-SS Super Street Air Systems for Camaro Available at Summit Racing Equipment
VaraRam VR-SS Super Street Camaro Ram Air Systems feed your late-model musclecar the coldest air possible for top performance.


What They Are: VaraRam VR-SS Super Street Air Systems for 2010-11 Camaro


Why They're Cool: VR-SS Super Street Air Systems outflow, outrun, and outperform other systems to deliver tire-smoking power to your modern muscle machine. VaraRam's special high-flow airhorn is positioned directly in front of the throttle body for maximum aerodynamic efficiency. The systems also include an elliptical neck with a rifled barrel design, plus a front wing with several vortex generators for balanced and equalized airflow.


Two models of air systems are available—the no-tune version is perfect for engines making up to 430 horsepower; the tune version is designed for engines with internal upgrades making 500 horsepower or more.


Part Numbers
VRM-VR-CAMARONT 430 HP Kit (no tuning required)
VRM-VRCAMAROTUNE 500 HP Kit (tuning required)


Where to Get One: Order online at SummitRacing.com or call Summit Racing at 1-800-230-3030


Other Stuff Worth Knowing: VaraRam VR Velocity Stacks are the high performance solution for GM's poorly designed throttle bodies. They increase power output throughout the entire rpm range, improve throttle response, and enhance fuel mileage. Maybe best of all, installation takes just a few minutes and can be done with simple hand tools.