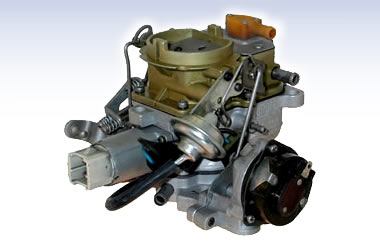 4/23/2013 - Media
UREMCO Remanufactured Carburetors Now Available at Summit Racing Equipment
The perfect carburetors for everything from restorations to daily drivers—no junkyard scrounging required.


Why They're Cool: Carburetors for everything from Chevy 350s to AMC six-bangers. UREMCO has rebuilt millions of carburetors over six decades. After select cores are disassembled, all internal parts are inspected and cleaned. All zinc and steel castings are chemically processed to restore the factory finish; aluminum castings are sandblasted to restore the finish.


After cleaning, all internal parts including electric and vacuum chokes, throttle position sensors, and floats are inspected and tested. Parts that fail inspection are replaced with new parts. UREMCO then rebuilds each carburetor to OEM specifications with new needle and seat assemblies, gaskets, gas filters, and accelerator pumps.


Each carburetor is individually inspected, adjusted, and rigorously tested on flow-bench engine simulators to ensure it operates to factory specifications. That means a UREMCO carburetor is ready to go right out of the box.


Chevy Applications
• 283-400 V8
• 396-454 V8
• 348-409 W-block V8
• 194-292 inline six

Ford Applications
• 221-302 and 351W V8
• 351C/M/400 V8
• 292-428 FE V8
• 429-460 V8
• 144-300 inline six


Chrysler Applications
• 273-318-360 V8
• 361-440 B/RB V8
• 198-225 Slant Six

AMC/Jeep Applications
• 230-258 inline six
• 290-401 V8

Other Applications
Buick, Pontiac, and Oldsmobile V8, Toyota 2.5L, Volkswagen


Product Link: http://www.summitracing.com/search/product-line/uremco-remanufactured-carburetors?keyword=UREMCO%20Carburetors&ddsc=1