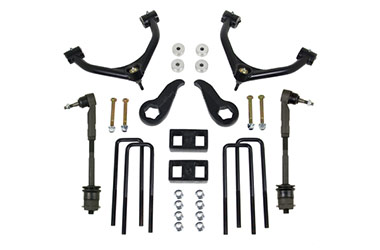 6/17/2014 - Media
Upgrade Your 2014 Chevy 2500HD with New Parts from Summit Racing
It's probably been a few months since you bought your new 2014 Chevy Silverado or GMC Sierra 2500HD pickum-up. That's plenty of time for the new truck smell to wear off and for you to start thinking about making some upgrades.


Summit Racing has plenty of performance, suspension, appearance, and towing upgrades for the latest GM pickups. We're highlighting the 2500HDs here because they are a popular choice for guys that tow a race car or a trailer of ATVs and make frequent visits to the home improvement store. You know who you are.


Here are a couple examples of the parts Summit Racing has for your 2500HD:


ReadyLift Suspension SST Lift Kits
Nothing says TRUCK! like one with a lift kit and big tires. But go too crazy with the lift on a street-driven truck and you compromise handling, ride comfort, and towing ability. ReadyLift's SST Lift Kits are a great way to get enough lift to clear bigger wheels and tires and retain decent highway manners. The standard kit lifts a truck four inches up front and one inch in the rear to provide a level stance. The Tow Package kit adds an additional two inches of lift in the rear to improve road manners when towing or hauling heavy loads. Add a set of ReadyLift SST9000 shocks and you'll be good to go. Both kits can accommodate tires up to 34 inches in diameter.
More Information


Bully Dog Triple Dog 50 State GT Gas Tuners
It's getting harder to find a truck tuner that's legal to use in all 50 states. The Bully Dog Triple Dog GT tuner is one of them—it's California emissions-legal for 2014 Silverados and Sierras with the 5.3L and 6.0L LS gas engines (CARB E.O. Numbers D-512-6 and D-512-7). The 50 State Tuner will add horsepower and torque. It also acts as a data logger, performance tester, diagnostic code reader, and much more. You can adjust or remove the speed limiter, and adjust transmission shift points too. The Triple Dog even has a Driving Coach feature that provides graphic displays to help you drive more efficiently and maximize fuel mileage. The Triple Dog 50 State GT Gas Tuner has a customizable, full color display and can be upgraded online from Bully Dog's web site.
More Information


Summit Racing Step Bars
Now that you've lifted your 2500HD, you need a way to get into it. A set of Summit Racing Step Bars will do the trick. They're made from 3 inch heavy-wall stainless steel tubing with a black powdercoated finish. The step bars also have recessed step pads to provide sure footing and install without drilling. The bars are available for standard and extended cab trucks.
More Information


Summit Racing has plenty of other upgrades for 2014 GM 2500HD trucks—and 1500 half-tons and 3500HD one-ton trucks too.