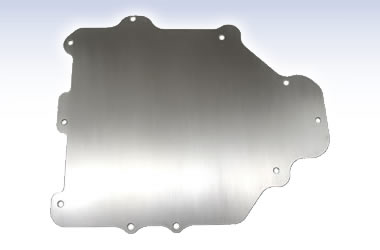 4/18/2013 - Media
UMI A/C and Heater Delete Panels Now Available at Summit Racing Equipment
Drop some weight and clean up your engine bay.
What They Are: UMI Performance A/C and Heater Delete Panels
Why It's Cool: These plates cover the holes when you eliminate the heater box and air conditioning unit from a vehicle's engine bay. This shaves weight off the front end and improves space under the hood.
These CNC-machined aluminum plates use factory mounting holes and will bolt directly to the firewall without further modification. The plates come either unpainted or in a red or black powdercoat finish.
Application: Available for 1964-72 GM A-body and 1970-81 Camaro/Firebird.
Where to Get One: Order online at SummitRacing.com or call Summit Racing at 1-800-230-3030.
Other Stuff Worth Knowing: UMI also has parts to make your GM A-body handle better. From polyurethane bushings and replacement hardware to complete anti-sway bar and control arm kits, these components can radically improve steering and cornering characteristics of your car.