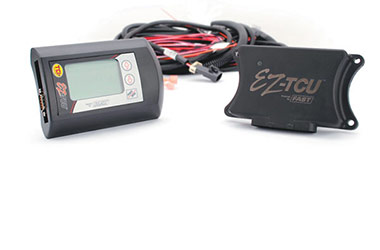 8/9/2014 - Media
Take Control of Your Computer-Controlled Transmission with a TCI EZ-TCU
GM's computer-controlled automatic transmissions—the 4L60E, 4L65E, 4L75E, 4L80E, and 4L85E—offer an overdrive gear, strength, and smooth shifting. While that makes them ideal for use in vintage musclecars and street rods, adapting the factory controllers was nearly impossible.


But thanks to TCI's EZ-TCU, you can fit a GM wunder-transmission into your vehicle and have complete control over its operation. The standalone unit is fully configured right out of the box, so you can plug it in, answer a few setup questions, and start shifting.


But the EZ-TCU also gives you the ability to program shift points, shift firmness, and shift speed based on engine load, RPM, and vehicle speed. You can even program in a full manual mode for use with bump or paddle shifters.


The included hand-held unit makes it easy to set up the perfect transmission calibration—no computer or external software needed. The system even has self-diagnostics to help you pinpoint erratic shifting or other problems. The EZ-TCU comes with the controller, hand-held programmer, and wiring harness.


SEE TCI'S EZ-TCU AT SUMMIT RACING