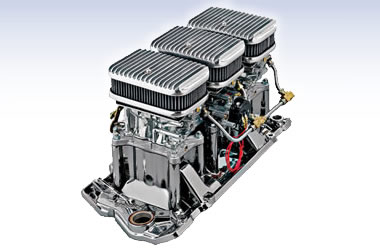 3/22/2013 - Media
Summit Racing Triple 2-Barrel Carburetor and Manifold Combos Now Available
Three deuces--the ultimate way to top off your small block Chevy or Ford.


What They Are: Summit Racing Triple 2-Barrel Carburetor and Manifold Combos


Why They're Cool: Everything you need in one package for outstanding street performance--and admiring glances. The combos feature a Summit Racing dual plane, medium-riser intake manifold that is CNC-machined with rounded internal surfaces for smooth, unrestricted flow. You also get three Holley 2-barrel carbs (325 cfm end/ 350 cfm center) plus progressive throttle linkage, air cleaners, fuel lines, and carburetor studs.


Part Numbers
SUM-CSUM1903 1955-86 small block Chevy, clear gloss powdercoated manifold
SUM-CSUM1900 1955-86 small block Chevy, natural finish manifold
SUM-CSUM1906 1963-95 small block Ford, natural finish manifold


Where to Get One: Order online at SummitRacing.com or call Summit Racing at 1-800-230-3030


Other Stuff Worth Knowing: Summit Racing also offers Triple 2-Barrel Combos for Ford FE big blocks. You get a choice of a dual plane or tunnel ram intake manifold plus the carburetors, throttle linkage, and fuel line.