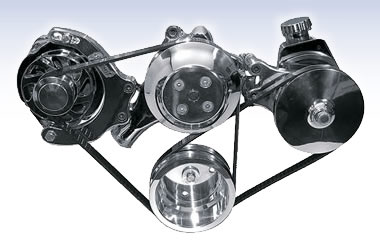 3/14/2013 - Media
Summit Racing Mid-Mount Serpentine Kits Now Available at Summit Racing Equipment
Ditch your Mouse motor's old V-belt setup and add some under-hood bling with this easy conversion.
What They Are: Summit Racing Mid-Mount Serpentine Kits
Why They're Cool: Kits that bring old-style accessory drives up to 21st century standards and reliability. Made for Chevy small block engines using a long water pump with clockwise rotation, these kits allow you to use a single serpentine belt drive for all of your accessories. The mounting brackets are made from CNC-machined billet aluminum for extra durability.
The kits include all required brackets, hardware, and pulleys to complete the conversion. They're compatible with standard-style GM alternators and Saginaw power steering pumps. Each kit is available in a polished or black anodized finish.
Part Numbers:
SUM-340500 Serpentine Kit, 1963-86 Small Chevy, Polished Finish
SUM-340500BLK Serpentine Kit, 1963-86 Small Chevy, Black Anodized Finish
Where to Get Them: Order online at SummitRacing.com or call Summit Racing at 1-800-230-3030.
Other Stuff Worth Knowing: Summit Racing offers performance water pumps, alternators, and power steering pumps. When paired with a Serpentine Conversion Kit, they're a great way to un-clutter an engine compartment and gain the convenience of serpentine belt adjustability.