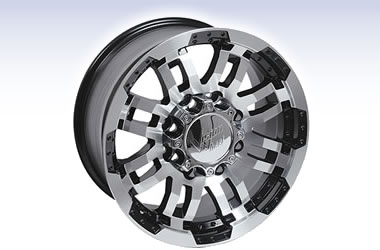 12/23/2013 - Media
Summit Racing Introduces 375 Series Black Ultimate Eight Wheels
A powerful combination of strength and style suitable for the street or slop.
With eight hefty slotted spokes, it's easy to see where 375 Series Black Ultimate Eight Wheels earned their name. These aggressive wheels use one-piece aluminum construction to provide a high load rating. The wheels' machined face features gloss black accents, while a beefy center cap tops off the rugged look.
The wheels are available in 15, 16, 17, 18, 20, and 22 inch diameters in five, six, and eight lug applications. There are versions that can accommodate a maximum tire size up to 37 inches.
Product Link: http://www.summitracing.com/oh/search/brand/summit-racing/product-line/summit-racing-375-series-black-ultimate-eight-wheels?autoview=SKU
Other Stuff Worth Knowing: Summit Racing carries plenty of on- and off-road tire options to compliment these wheels. And it offers free mounting and balancing at Summit Racing's Retail Stores in Tallmadge, OH; McDonough, GA; and Sparks, NV. Certain restrictions may apply. Depending on the tire and wheel combination, there may be an additional charge.