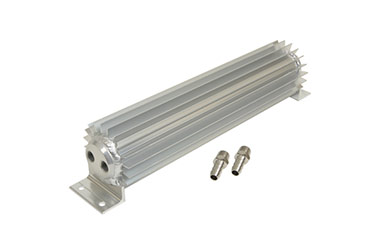 6/17/2014 - Media
Summit Racing Heat Sink Transmission Cooler Now Available
Summer's tough on your truck's automatic transmission. So is towing and hauling stuff. All those things can quickly heat up transmission fluid—and circulating hot fluid through your transmission will cause sluggish shifting and drastically shorten transmission life.


Fortunately, a Summit Racing Heat Sink Transmission Cooler can keep fluid temperatures in check. The aluminum dual-pass cooler has internal and external cooling fins. The internal fins act as a heat sink to literally soak up heat from the fluid, even if the cooler is not sitting in an area that gets good airflow. That means you can mount it anywhere you want—perfect for working in conjunction with your factory transmission cooler to maximize fluid cooling capacity.


The Summit Racing Heat Sink Transmission Cooler measures a compact 2.188 inches high, 14.25 inches wide, and 3.25 inches deep. It has a quarter-inch NPT inlet and outlet, and hose barb fittings are included.


SEE THE SUMMIT RACING HEAT SINK TRANSMISSION COOLER