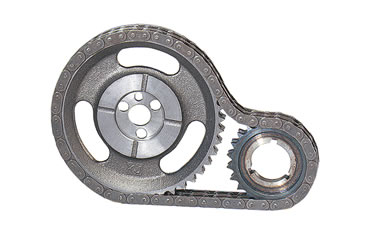 6/14/2013 - Media
Summit Racing Equipment Now Offers True Roller Timing Chain Sets
Accurate, reliable cam timing for popular Chevy, Ford, Mopar, Pontiac, and Olds V8s.


What They Are: Summit Racing True Roller Timing Chain Sets


Why They're Cool: Rock solid cam timing. Summit Racing's True Roller timing sets have rugged double-row chains and steel crank and cam sprockets. The crank sprocket has three keyways—4 degrees advanced, 4 degrees retarded, and normal—to help you dial in perfect cam timing.


Chevy Applications
• 1955-95 small block, flat tappet cam
• 1985-99 305/350, factory roller cam
• 1966-95 big block

Ford Applications
• 1962-95 221-351W, 1- and 2-piece fuel pump eccentric
• 1962-95 221-351W
• 1970-82 351C/M, 400
• 1968-78 429/460
• 1964-74 352-428 FE

Mopar Applications
• 1964-91 small block
• 1958-79 big block, 1- and 3-bolt cam gear

Pontiac Applications
• 1959-79 350-455

Oldsmobile Applications
• 1962-82 307-455


Where to Get One: Order online at SummitRacing.com or call Summit Racing at 1-800-230-3030


Other Stuff Worth Knowing: Summit Racing's Gear Drives have a dual-idler design with CNC-machined components—your timing will never budge. The cam gear allows for timing adjustments in two-degree increments, and the whole thing fits under your stock timing cover. Take your pick of 'noisy' for that blower whine sound, or 'quiet' for you stealthy types.